Need a character?
Are you creating a slideshow or poster or drawing and need a character? Perhaps you'd like a new avatar?
Google drawing is your answer — just using basic shapes, you can easily create a character or creature for your projects.
We don't need perfect– just a shape!
First of all, you could take hours creating in Google Drawings– but don't! Perfection isn't what's needed– but a quick creation that others can immediately understand as a character– like perhaps the above girl or the dragon here: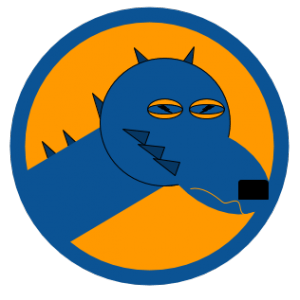 Just use simple shapes!
Use simple shapes and quickly arrange them into your creature or character. Here's how I do it so it doesn't take forever:
Create a basic shapes sketch on paper.
Notice I've only used circles, ovals, triangles, a rectangle, a line. Easy.
2. Open up Google Drawings and choose the shapes
Choose the shapes for your creature and arrange them into your creature.
3 Add fill and borders of different thicknesses to create the effect you want.
See this in the outside border and the dragon's head.
4 Arrange shapes to create the effect needed
You can group, flip, rotate, bring forward or backward.
You can see that my dragon nose does not have a border and is positioned in the front of the head so that it fits together. I chose "lightning" for the pupils but kept them black to match the effect. You'll soon be making great design choices and quickly move the shapes around to create a character or creature that matches the ideas you have in your project. Example
5. Save, link, download.
Title— on your picture if you want and for your drawing document.
Share: If you are going to share the creature, choose the share button to get the link [choose how you want to share].  My Dragon is viewable but not downloadable. I use this dragon in my books!
Download: To insert the creature into my post I downloaded it as ".png" which means the background will be transparent. This is especially important if you want to add this to a slide and want the image of the creature to be placed next to others — just the image will be downloaded, but the white background will be clear– transparent.
If you choose .jpg, the dragon will have a white square behind it.
Tips
Remember: perfection is not the goal. Once you practice drawing the sketch and choosing shapes, using the colors fills, borders, and the arrangement tools, you'll be able to create a creature or character quickly and easily.
Once you have a set of characters, you can drag them on and off the drawing to create different posters for your projects. Example
For more tips, see this next post: More Google Drawing Tips
What avatar, character, or creature will you create?
Resources
How To Use Basic Shapes in Google Drawings