I started this blog in August of 2007.
It's transformed over the years, as our lives do.
I don't want to lose the history, so on this page I present past pages and information in one long page. It is of interest mainly to me, of the journey I have taken myself and with my former students.
History. It's a story.
Below are past pages from  the student blog, Eagles Write.
---
Past Links
Past Widgets
---
---
Past Pages
---
Why Blog?
"…we can fulfill the idea that the classroom is a meeting place
for the exchange and evolution of ideas."
Stewart Mader
---
The Benefits
At parent-teacher-student conferences, families like to know not only how their child is doing, but also if they are learning things of interest and value to them in ways that reflect each child's personality and talents.  It's always reassuring to hear a child explain the projects they really enjoyed, and to note the learning the student sometimes didn't even realize had occurred.  In the retelling, the learning overflowed.
How does school help students develop their talents? their interests? their curiosity?  their community? How does a wiki welcome students to learning?
Teaching and learning are social activities; today's kids are connected in ways that no adult over twenty-five could have imagined just five years ago. Students today enjoy the connectedness of social networking; it is part of their very being. My goal is to bring my instruction into that cloud to teach the content required in ways that inspire online responsibility and ethics in this new, very public world. To that end, Parker and Chao summarize the research on the benefits of using a wiki in the classroom, many of which also apply to blogging (bold):
wikis stimulate writing ('fun' and 'wiki' are often associated);
wikis provide a low-cost but effective communication and collaboration tool (with an emphasis on text rather than software);
wikis promote the close reading, revision, and tracking of preliminary work;
wikis discourage 'product oriented writing' while facilitating 'writing as a process'; and wikis ease students into writing for a wider audience;
summarize various assigned readings and post them on the wiki for others to edit collaboratively to improve both accuracy and completeness;
allow students to meet virtually at their convenience and work on projects together;
gather, organize, and share writing, photos, videos, presentations,and other digital creations;
enable extremely rich, flexible collaborations that have positive psychological consequences for their participants;
prepare students to make innovative uses of collaborative software tools;
manage business innovations of the future
The collaborative and public nature of the wiki helps students understand and collaborate in a continuous publishing process in which their strengths and talents add to the research and product.
---
Instructional Design
I've always believed that I learn from my students, and that I need to know them and what they need in order to teach well.  I also believe that learning is a social activity, and that we learn by participating.  In addition, I know that all kids can learn, and that they are "smart" in different ways. Finally, a student can learn if s/he can see a target, has various supporting structures and resources, and has the opportunity and time to practice and improve with continuous feedback. Blogs and wikis provide the structure for all of those pedagogical implications:
Learning activities engage students in projects/products that benefit or inform others in real situations with options for students that promote their interests and strengths.
Learning resources involve in-hand, multi-media, primary, or "live" venues from which students can learn both the information and the process of gathering, analyzing, and synthesizing the learned concepts.
Learning supports provide the feedback and structure for students to succeed, according to their needs.
This diagram pulls all these ideas together to show what a classroom wiki or blog can include: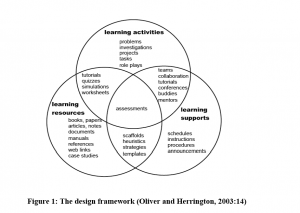 Peter Jones (1,2)
Students can choose different kinds or different levels of learning activities, all of which offer the opportunity to learn the requirements of the lesson with the additional wiki benefit of peer/teacher collaboration and feedback so that the final product meets the expected standard. With blogs, students peer edit before approval. The wiki and the blog allow links and lists of possible learning resources (to which students can add) with the benefit of availability 24/7 if online.  Learning supports improve from the collaboration and feedback by/with students; the feedback guides the teacher into providing additional instructions, handouts, templates, strategies, organizers, and resources as needed for students to succeed. Everything is visible and transparent, supportive of all students and styles. It builds the conversation and the community through a 21st Century communication connection.
---
When a wiki is the way: Exploring the use of a wiki in a constructively aligned learning design Peter Jones, Department of Social Work and Community Welfare, James Cook University
Download document (pdf): http://www.ascilite.org.au/conferences/singapore07/procs/jones-p.pdf
---
Guidelines for Students on Eagles Write
Purpose and Rules
Our Blog is a site intended to enhance written discourse and media citizenship among students. We choose to matter, to make a difference.
Our goals:
1) develop and apply our writing skills as we read, write, and think about our interests, our learning, and our world;
2) consider and connect our writing skills, our learning, and our world to narrate, explain, and persuade in order to clarify and share our understandings;
3) understand audience, purpose, and format in mixed-media presentations to narrate, explain, and persuade;
4) engage others in conversations that consider additional concepts about our ideas;
5) collaborate with others to deliberate on and revise our language style decisions;
6) participate as positive, responsible, and productive citizens in the web world.
For more information, see Why Blog?
The Rules
1. Be safe: If you are a student you must use your code name. Follow and remember our netiquette at: Blog Etiquette (Internet/Wiki/Blog) Keep your personal information to yourself, not publicly presented. Keep your password secure to yourself and with your teacher.  Print a copy: Rules for Eagles
2. Be kind: Be overly friendly and positive; you must refrain from any profane, sarcastic, or unkind responses.
3. Be respectful: Since our writing work is schoolwork, school rules and expectations apply when making any references on or to this site. Remember to work on your files only; edit others' work only with permission. If someone forgets to log out, please log out for them. See  Comment Guidelines
4. Be productive: Make sure you communicate clearly and intelligently (no text message wording please) on a relevant topic. Remember your purpose and audience.
5. If the above criteria are met, your posts may be published; if the above criteria are not met, your posts may not be published.
6. The views on this blog are not necessarily those of Ms. Edwards or our school.
Rules Adapted from: The South Titan Government Blog
More Internet Safety Information
About safety:
Watch the video at iKeepSafe for more information.
Never post your personal information or information about someone else.
Learn more about online safety:
OSPI Cyber Safety Brochure for Families
Nine Elements of Digital Citizenship
In our classroom, on a daily basis, we practice our Net Safety through lessons, discussions, and interactions on and offline.
Purpose and Value
1. Student blogs
Students begin writing posts as contributors on this class blog until the student's entries demonstrate independent, ethically responsible, writing process decisions.
Next the student progresses to an individual blog — only one per student, which spans their middle school tenure, and which may be downloaded and kept when the student leaves our school in eighth grade; assessment occurs only for the quality of writing.
2. Student Assessment
Writing teachers assess and give earned credit for the blogs through a common assessment tool, such as the Writing Rubrics, to help develop student writing style and skills. Students self and peer assess as collaborators in developing our writing abilities. Content is open for the student to freely choose, as long as the choice is educationally appropriate for the audience and purpose. The goal expects students to re-connect on their blogs with their own interests and the learning from their classes—to reflect, dissect, connect, reject, and project with others to clarify their own understanding.
3. Writing Workshop
The blog workshop will begin with this year's grade eight class. They will continue blogging about their "educational journey" until promotion in grade eight. Their grade eight experience will contain a "Pinnacle Project" in which they write a "My Educational Journey Through Middle School" essay (preferably digital and mixed-media) that reflects on and synthesizes the essence of their educational path as seen through their blogs.
This will be a "writing workshop." It encourages student construction of their own interdisciplinary meanings, the return of the parts to a student-synthesized whole. Student writers will authentically experience all the stages of becoming a writer, ups and downs together. In addition, each blog is a hyperlinked culminating writing project, online, for students to use for their high school prep file, and to begin the high school synthesis of learning for college applications. A blog is worth a thousand essays.
If you have any concerns, questions, or reports of inappropriate content, please email Ms. Edwards:
Adapted from: Clay Burell
---
Welcome Families !
Friends and  families — please read and respond just as our students do.  Let us introduce you to the facts:
Who:
This blog is for Ms. Edwards's Writing Class
We practice our 21st Century skills to:
Consider  Create  Connect  Collaborate.
Where:
The Home Page and Blog
 Home Page Google Sites for Writing Class
The Teacher Blog
The Eagles Write Class Blog for Grade 8
Eagles Write Kidblogs for Grades 6 7 8
What: The Purpose
Eagles Blog
Have you noticed the world has changed?
Or the changes in reading and writing?
We are Wandering Wordsmiths; Emerging Experts.
What else could we write? How else could we say it better?
Our Blogs: a place to enhance written discourse and media citizenship among students.
Teaching and learning are social activities; today's kids are connected in ways that no adult over twenty-five could have imagined just five years ago. Students today enjoy the connectedness of social networking; it is part of their very being. Our goal is to bring instruction into that cloud to teach the content required in ways that inspire online responsibility and ethics in this new, very public world.
What: A  Definition: What is a blog?
A log is like a journal, a place to express your ideas. A web-log is a journal on the world wide web (www), the Internet.  A blog is short for "web-log." It's purpose is to share ideas with others to add to an ongoing conversation about topics of interest to the "blogger." Others then comment on that blog so they can add more to the conversation.
Why: So Why blog?
In this changed world, our students will be expected to participate online in responsible ways. Education now includes guiding students in this new read-write web. That's right, the "internet" is now not only readable, it's writable.
Our students learn to navigate safely and responsibly through the web by participating in blogs and wikis on topics of interest to them. They research and consider others' ideas, create their own ideas on blogs, connect to others in comments, and collaborate to clarify and extend the conversation about their topics.
Through these connections, students apply their research and social skills to clearly write their ideas, converse with others in positive and supportive ways, and continue the conversation that adds knowledge and solutions to issues that concern them.
They create an online identity of which they can be proud citizens of this changed world.
How: How Can Families Participate?
Will You join us?
The Teacher Blog
The Eagles Write Class Blog for Grade 8
Eagles Write Kidblogs for Grades 6 7 8
In the right column, just enter your email address in the "Subscribe" area. You will receive an email when changes occur.
Read the blog's pages for more information
Comments continue the conversation. We love them!  Just click "Comments" under the title of the blog post or at the end of the blog post. Please only use your first name.
Note to students:
Remember: A blog comment is your footprint… a path back to you… prepare your path wisely.
Look for your student's name in the sidebar of this or our Kidblog blogs.
How will I introduce and welcome families?
First, my students will follow what they need to do to begin blogging. Expected homework is to share what they do, including the internet safety guidelines they follow.
Second, once students begin their own blogging, I will ask them to learn and explain the purpose and participation in their own words.
Third, I'll share the handouts (see below) with families at parent conferences and as a homework task. I've always wanted to have an "Open House"  in our writing classroom, such that students prepare presentations to share with families any time they visit. We could schedule special "Open House Days" as well. Our regular lessons and projects would continue as the students of the attending families simply take them to their desk or computer and share the presentation of our work to them. This helps families and their schedules.
So, students:
What are you learning? What will you share? Did you share our blog with your families yet? Let's start our welcome to families to share our learning in writing class.
And families, What do you want to know and see? We look forward to learning your ideas as you read about ours.
---
The family handout: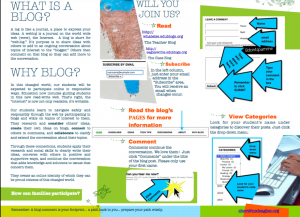 ---
About Us
Welcome
Here's a bit about what we do — we focus on reading and writing in our class, but also take time to find our own genius and our own passions.
We are learning together, and hope you share with us.
Who Are We?
We are a rural public school on a reservation in north central Washington State. As a reading and writing class for students in grades 6, 7, and 8, we hope to engage readers with our ideas and questions. We hope you inspire us to continue our journey by adding comments and suggestions.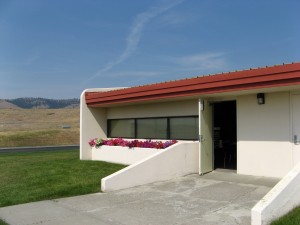 Please contact our teacher, Sheri Edwards, if you have any questions.
Please read our teacher's blog here: Ms Edwards Newsletter Blog
---
About Blogging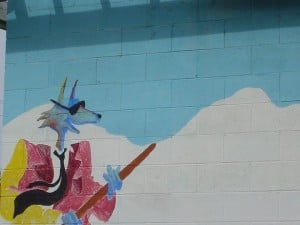 Please don't be a trickster like Coyote;  read the rules in the right margin and Guidelines for basic information about our blogging; to understand how you leave a digital footprint, read comment considerations.
Remember,
your posts online are a footprint
… a path back to you…
prepare your path wisely.
---
Students today enjoy the connectedness of social networking; it is part of their very being. My goal is to bring my instruction into that cloud to teach the content required in ways that inspire online responsibility and ethics in this new, very public world.
---
---
Need Ideas?
Need an idea to start blogging?
Note: Remember that you may draft your writing on our wiki, in Google Docs,  OWN (Online Writing Notebook), or your writing journal so you can obtain feedback and collaborate with peers.
Remember to edit your writing for capitals, spelling, paragraphing, and punctuation.
Remember: Always be overly kind and positive when commenting or sharing your opinion.
---
Current Learning or Events
Part of our writing class includes current events reading so we "learn stuff." What have we read in writing class? What did you research? What is your opinion? What is important to share? What do you want to know from your readers about this topic?
Read Tween Tribune for more kid news.
Find other blogs in the sidebar of our class blogs. Discover the current ideas in their posts. Read other people's blogs for ideas and to develop new ideas on your own. Use your OWN Online Writing Notebook [ Learn about OWN here ]or your journal to write your ideas so you don't lose those special ideas you considered from others' blogs. If you get an ideas from another blogger, be sure to comment on that post with a link to your blog post expanding on their ideas. Read more at Blog Conversations.
---
Writing Prompts
Other writing prompt sites: Writing Prompts
Team Writing: News, Views, and You
---
Responding to a Quote Guidelines:
Choose a famous quote to discuss in your blog post. Example: BrainyQuote
Title: Ask a question; Use Alliteration; "Like a ______"
Paragraph 1: Grab the reader's attention with a question or fact. Write the quote within quotation marks. Write what the quote means in your own words.
Paragraph 2: Give an example of what the quote means to you by explaining an experience you (or someone you know or heard about) has had.
Paragraph 3: Tell how your experience connects to the quote. End with a question to the reader or author.
Source: (Blue Write Source, pages 274-276)
---
1000 Words
A picture is worth a thousand words, but pictures tell stories that we imagine when we see them.
Look at pictures and consider the story behind the picture: -what happened before? -what happened in the picture? -what happened after? Wrap the story with powerful words and imagery to share in your post with a link to the image. Embed the image only if you have  the rights [ Public Domain or Creative Commons license ].
Look at pictures and consider your opinion — what do you think? Write your post with a link to the image. Embed the image only if you have  the rights [ Public Domain or Creative Commons license ].
Where to find fascinating pictures?
The Bing Search page [don't search, just use the images]
Other Resources:
Wiki Directions and Templates:
Blog Quote and/or Comment Template
Ideas:
Writing Prompts and Ideas (OWN)
---
Tech Tips
Tech Tips For You
---
How do I add a link?
In edit mode, choose HTML instead of Visual, then copy and paste this code:
a href= "url">Your Title</a Place this code in between these symbols <>
So it looks like this:

<a href="https://whatelse.edublogs.org/guidelines/">Your Title</a>
Your link will look like this in your blog: Your Title
Replace the         https://whatelse.edublogs.org/guidelines/              with your link.
Replace           Your Title             with the text you want displayed.
---
Pictures for Projects
Where can I find pictures for my projects?
Check out these sites; refer to copyright information at the site.
Springfield Township High School Links to Images
Creative Commons for VoiceThread Flickr Group
Torley's Flickr collection of textures
Compfight Be sure that you have chosen "Creative Commons Only"
---
Sidebar
---
Where has our journey taken us?
We'd like to share our journey of where we have been.  Whose blog did we read and comment on? Which are our favorites? From whom did you learn something new? What have you learned about blogging and bloggers?
For a while, as we plot our path, let's do two things:
Share the URLs of the blogs on which we have commented and started a conversation. Whenever we make a comment, we are starting a conversation. Sometimes those continue for a while and sometimes they start projects. When you find yourself in a great conversation,  copy the URL and paste it into a post. Share what you learned or what you liked. It doesn't need to be long — just the URL, an idea from the conversation, and why this was a great example. You will show and explain the power of blogging.
Share what you have learned each week. Use a prompt if you'd like. Include what you have learned about reading, writing, analyzing, composing, conversations, commenting, ideas, editing, etc.
Blogging means to —-
I learned that —-
It's easy to —-
The hardest part is —
Something interesting is —
My favorite part is—
I already know I want to write about —
I want to do research on ___ so I can blog about ____
I have a question. It is —
Take a step, and share your visits  and share what you have learned !
Remember your path to your own blog by following these steps:
---