Memes: a media element spread on the internet, altered by others, and added to the internet's dispersed collections.
They are fun, often humorous, and sometimes satirical. They can be informative. Dogtrax [ Kevin Hodgson] invites us to continue the #clmooc tradition of memes this year. So if a phrase captures your attention, let us know by choosing a meme image to fit. Create it, and spread the Meme Magic.
When Corinne Thomsen shared her lovely drawing, I immediately thought: Meme Magic!
So I asked her permission and began a remix. I opened my free app, Sketchbook Express, and began the process of remixing and adapting her fun image. I downloaded her image and inserted it into Sketchbook Express, which allows me to fill, draw, layer, and add text.
I first made a blank template for all of us to use. So download this image [right or control click and Save Image As] and create your own. I made it square [ 500 x 500 pixels ] because some meme generators require square images; adapt as you need to. It does allow for adding information on the white right side.
So, Welcome to  #clmooc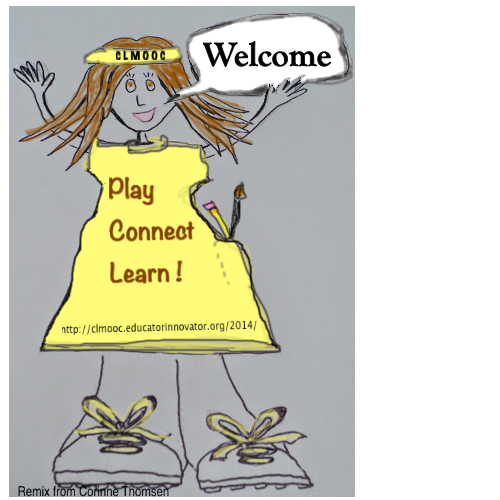 Build your personal / professional learning community through fun projects collaborating with others throughout the summer:
What is it all about? It's about becoming a Connected Learner and guiding your students' connections as well. Come join the   #clmooc and follow on Twitter #clmooc
And remember to Make More Memes !