Affinity Schools
Discussions in our Affinity Book Club consider how affinity groups — online interest groups to which many young people belong to find and learn with and from others with their interests [fan-fiction, crocheting, gaming]– how could schools build in that interest — to engage students and to bridge the gap to their world?
The Book Club
What is the Affinity Book Club ?  A twitter chat, very slow, over the month As CLmooc delves into the book Affinity Online at #CLmooc.
The Bridge to Student Interests
Yesterday, in CLmooc BC Affinity Bridge, I shared such a bridge based on the work of Sean Ruday. Wondering about Affinity Networks helps us understand why kids reach out to them and become immersed in interest-based learning online outside of school. Not all kids have that knowledge or access. Not all kids are aware of the possibilities of learning their interest so well that it becomes their future: academically, civically, and economically. And schools are mostly organized and managed just like one hundred years ago.  Immense possibilities are available with the connective world of the internet. Many kids today find their niche into which they are thoroughly engaged in all aspects of learning [reading, writing, designing, communicating, sharing, giving and receiving feedback, collaborating] and are bored in the wooden seat behind the five other students in her row in school.
So we in #clmooc are wondering– what is possible? what if…
Web 3.0: Why Affinity Networks are Online
Today, two things crossed my Twitter feed. First, Jackie Gerstein's post from 2013, Schools are doing Education 1.0; talking about doing Education 2.0; when they should be planning Education 3.0,  reposted at TeachThought in Dec 3, 2018.
The shift from 'Education 1.0' to 'Education 3.0' is a shift from 'education' to people.

The Difference Between Education 1.0 & 3.0 – https://t.co/X8SToCjJtt pic.twitter.com/2eiRgGsaRk

— TeachThought (@TeachThought) March 4, 2019
Many teachers and schools have embraced the web and brought learning into the 21st century — because it is 2019, not 1919. There are 338 comments on Jackie's 2013 post: innovative teachers have been on the forefront of educational transformation for years already, and yet, walk into almost any school today, you see rows. And often those rows are filled with disinterested students.
Jackie's article walks us through the history of the web, from Web 1.0 to Web 3.0.  We're stuck in Web 1 and 2. Affinity Networks are Web 3.0.
Here's an image from her post explaining– but read the post, please, to see how many schools are still Web 1.0. Click the image for a slightly larger view.
Schools are institutions driven by mandates and policy; some are moving forward and some are becoming aware. Some innovative teachers go beyond the required and find ways to integrate technology as allowed by the school district's focus.
Institutions change slowly — there's no fault here– these conversations help build awareness to the possibilities.
An Example
Also in my feed from GeekWire, an innovative teacher brings Robotics to her school via an after school program. This is one of the "bridges" that teachers can take to engage students in authentic learning with technology.
Native American robotics team from rural reservation chases big tech dreams at GeekWire Bash https://t.co/PoEAnZCky6

— GeekWire (@geekwire) March 6, 2019
You know these teachers — and they bring tech into their classrooms as well in ways that are pedagogically sound, not just add-ons or cute apps. They bring in tech so students can collaborate with each other and perhaps outside of school to other students or experts [Google Apps, Skype, Hangouts, Blogs]. Students use the tech to create, communicate, discuss, get and give feedback, collaborate, and publish. These are the bridges from Web 1.0 to Web 2.0 and sometimes Web 3.0.
Affinity School
But what if more students could participate because robotics was integrated into the curriculum in a multi-disciplinary, openly networked, multi-age program, one of many connected learning programs at a school center?
Like affinity groups, connected learning is based on shared interests and purposes with an academic orientation. A visual of Robotics as a connected learning program: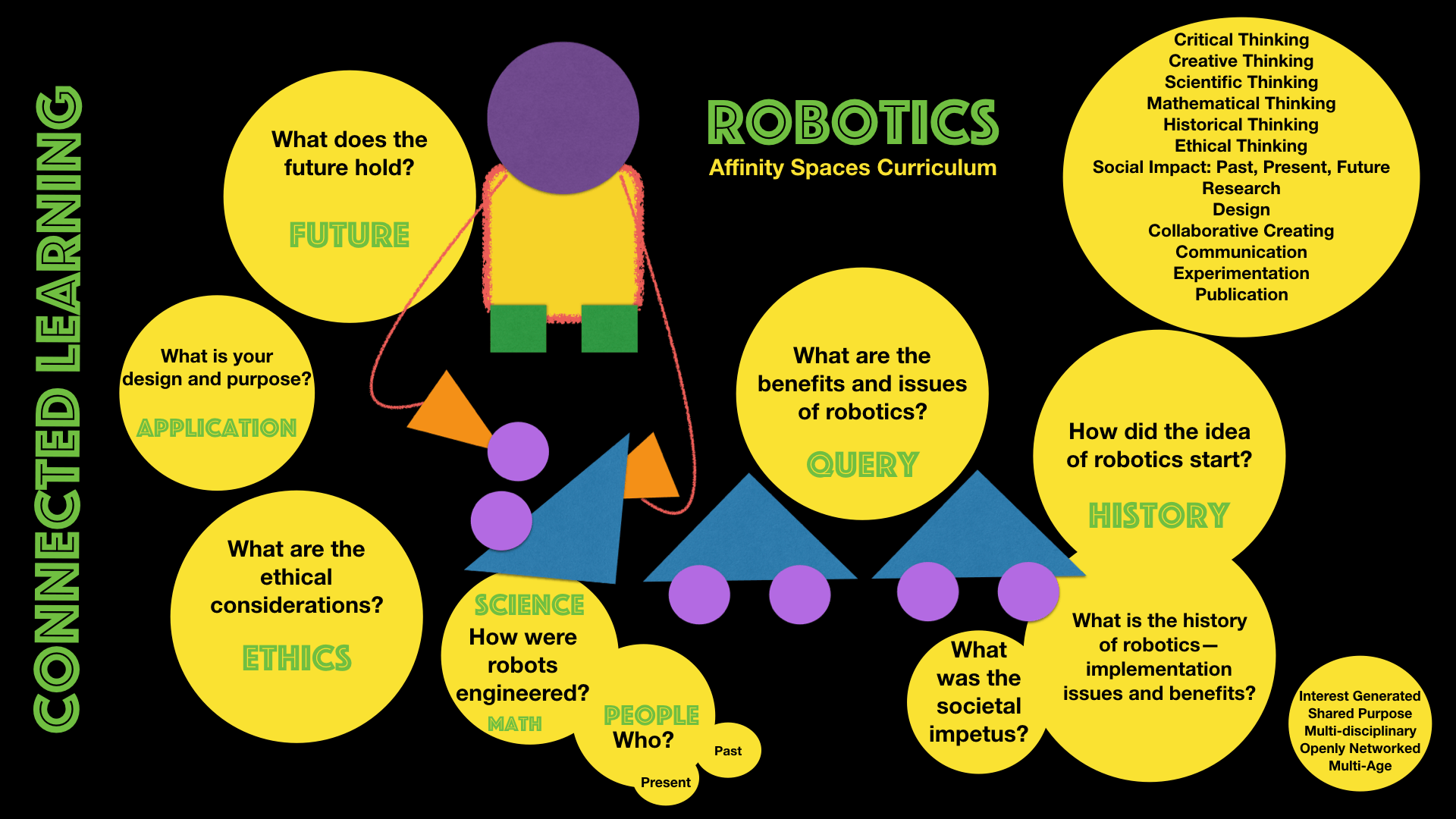 What you see:
Shared interests and purposes by students
Multidisciplinary components that drive a thorough understanding of the development of, implications of, and future of robotics
Authentic thinking dynamics
Authentic reading, writing, research, experimentation, design, collaboration, publication
Access to online information, resources, peers, experts, publication
Multi-age possibilities
Where's the teacher?  The student is the teacher; the teachers are the peers and experts. And The Teacher is the process guide, instrumental in counseling students towards their interest goals and content learning through connected resources of people, content, actions, and publication.
This is just a sketch of what is possible; it might also mean that school is more of a "center" than a regimented schedule, and open to everyone, not just K-12.
But that's the Web 3.0 Affinity School for us to design together — for the best learning for all of us. The thinking and research is starting at CLA [Connected Learning Alliance] and YPP [Youth Participatory Politics]– check them out for further information.
How are you bridging the gap between school days of rows of desks and students able to traverse the universe to discover their interests, to learn about and excel in their passions?
---
Notes:
Connected Learning Information