---
How do I curate information?
A huge part of my curation habit is through the app Evernote. It's an amazing note-taking, organizing app for any device. If you're a techy user who just wants to get started, check out this post on Curation: Links About Evernote for a list of HowTo links. See Evernote's Getting Started page.
What is Evernote?
This 2012 video explains the many ways I use the app, read this article, or check out the channel:
Everything saves in Evernote. The best thing is that everything is organized, labeled, and searchable — even handwriting or words in a picture. Love that.
What do I save?
web pages or selections [on anything: recipes, hobbies, news, articles]
pictures of important documents
photos
manuals
downloaded pdfs
audio recorded notes
recipes
health information
tax information
notes from meetings
shared folder of important info with family
etc.
Everything is searchable and everything is organized into notebooks. Any note or notebook can be shared in many ways, including password protected. For those interested in collaboration strategies, this Evernote page provides the steps to do so. I'm not sure if it is available in the Basic account.
I've been using Evernote since it started, so even though many note-taking apps exist, I stay with Evernote for the process across devices that makes my life more organized. I pay for the premium plan. Be sure to check out pricing and features to see if Evernote fits you. The free version is limited, but it gives you an idea.
Here are some examples
Research Request by Staff and Coaches: Homework
Lesson Examples
Audio Recordings

With student work [not public, shared with parent]
my family
Kitty Purring [these will download from browser, but not in Evernote, so … It's just a cat purring]
Is Evernote for you?
After looking at the examples, think of the many possibilities for your own life. Evernote stores everything safely. You choose what and if and when to share, a note or notebook. The possibilities are endless. I find that Evernote does so much more than just save: I can share, add info and media, annotate, highlight. I can have access to my most important information when needed. Anytime. Anywhere. That means a lot.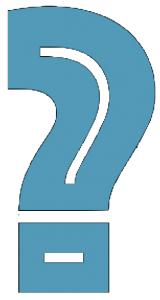 Where do you store your important documents?
What is your favorite app for annotation?
What is your favorite app for collaboration?
---
Evernote Research Curation
For those who want to see how the app works, here are the steps I take to use Evernote to gather, annotate, and highlight my web research.
Click an image to see a larger version, if needed.
iPhone / iPad
To save a webpage on the iPhone, in Safari, I click the pancake "Reader" icon [the lines in the URL bar ] to read a clean article without ads and sidebars. At the bottom, I click the share button.
Here's the Reader View before I click the Share button:
Click the share button to choose Evernote — the Elephant who remembers everything:
I can choose the Notebook and the tags:
Click on "Tag" to choose tags already applied, but not to add a tag.  Use the letters on the right to quickly jump to a tag. I usually add new tags later on my desktop.
See that I've chosen both a notebook and a tag. Now I click "Save"
Open Evernote on your iPhone. Go to your notebook, or search in the search bar.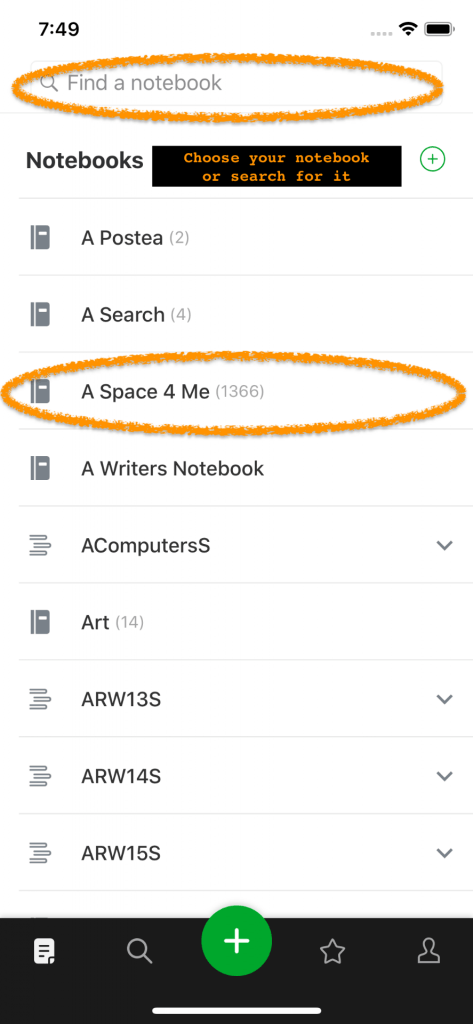 There's my saved web article:
Notice that article images remain, but the ads and sidebars are eliminated because I've chosen the "Reader" view in Safari [see above].
Insert Options
I can insert handwritten notes or add pictures–
How? Just insert the cursor into the note and click the green + "Plus" sign
That gives you this menu
Alternatively, at the bottom of each Evernote note are the icons for adding a photo or taking a picture, adding audio, adding a handwritten note, or adding an attachment:
To Highlight
To highlight, insert  the cursor near the text you want to highlight. Select the green "A" from the pop-up menu. Swipe to the left to click on the highlighter icon. Then highlight your text. Click the caret to exit and view your highlighting.
The highlights:
To add own text notes
Click in your note to insert the cursor.
Click the green "A" in the menu that pops up.
Choose your options: color, size, justify
Type your text.
NOTE: You can also change the original text this way by highlighting it.
Added Text Example
Other Options
Click the three dots at the top right for these options:
The iPad: Works the Same
Sharing Options
Share by email, public anyone with link, social media.
Choose View, Edit, Invite.
The Desktop AND Browser App
Everything is easier with the desktop app, but once one device  adds to or edits an item in some way, it syncs automatically to all the other devices. Here's an image of my Evernote desktop app showing the annotations and added to notes from the iPad and iPhone:
On my desktop, in my Chrome browser, see the Evernote Elephant [Remember Everything!] chrome extension. When on a website to save, click it.
After clicking, a menu pops up. I like choosing the "simplified article" because it clears away ads and sidebars to just save the article. I choose my notebook and I can type a tag or choose one. Click "Save Clip."
I can then close the box, or click "View in Evernote" to sign in to Evernote in my browser.
If you're not logged in to the Evernote Web version, you'll be asked to log in.
Note: you could also just open your desktop app to view the newly saved article.
Here's the saved note in the web browser: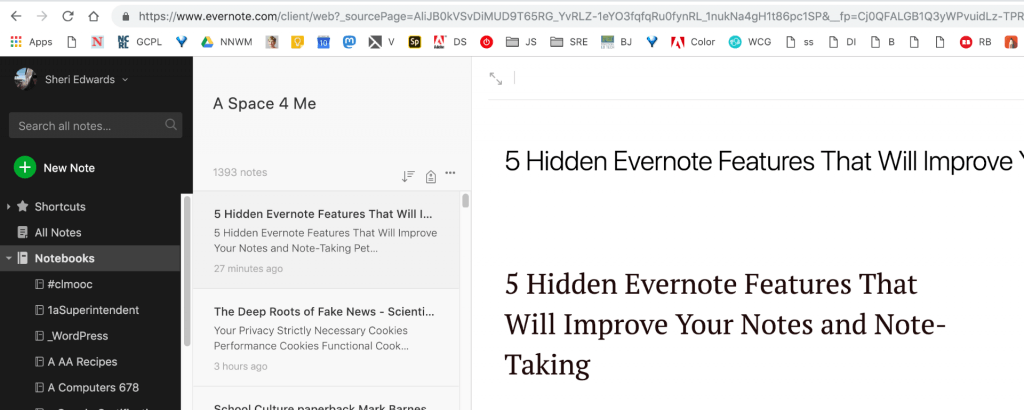 Just click anywhere in the browser for the tool bar for annotating:
Back to my Evernote Desktop app:
The same note is available — all changes saved here as well. I just need to click in the note for the toolbar to start annotating. So easy on the desktop or browser.  Get the Safari Evernote WebClipper here. I use both Chrome and Safari, so great to have them!
For those new to Evernote, I hope this helped you see the possibilities and why Evernote is one of my curation apps: every device syncs!
Question Repeat
Where do you store your important documents?
What is your favorite app for annotation?
What is your favorite app for collaboration?
---
This is a continuation of #blogging28 and my February Goals.
#modigiwri More Digital Writing
All screenshots and doodle art by Sheri