Yesterday, in a Susan's tweet, I was reminded of our #etmooc birthday — a six year anniversary of Educational Technology Massive Open Online Course: a group of many educators learning the pedagogy of infusing technology and citizenship in our classrooms, with our guide, Alec Couros.
Thinking about #etmooc @bhwilkoff @fryed @EHordyskiLuong @grammasheri @karenatsharon @jacbalen @cogdog @verenanz @tina_p @debbiefuco @rljessen @paulsignorelli @valerielopes @JeffMerrell @amyburvall @dendari @SISQITMAN @tutormentorteam @folynick @clhendricksbc 6 yr Anniversary

— Susan Spellman Cann (@SSpellmanCann) January 10, 2019
Agree. From #etmooc to #teachtheweb to #openspokes to #clmooc It was #etmooc that supported my first steps to #ConnectedLearning Thank you! And so glad we are still connected!

— Sheri Edwards (@grammasheri) January 10, 2019
So many of our crew piped in: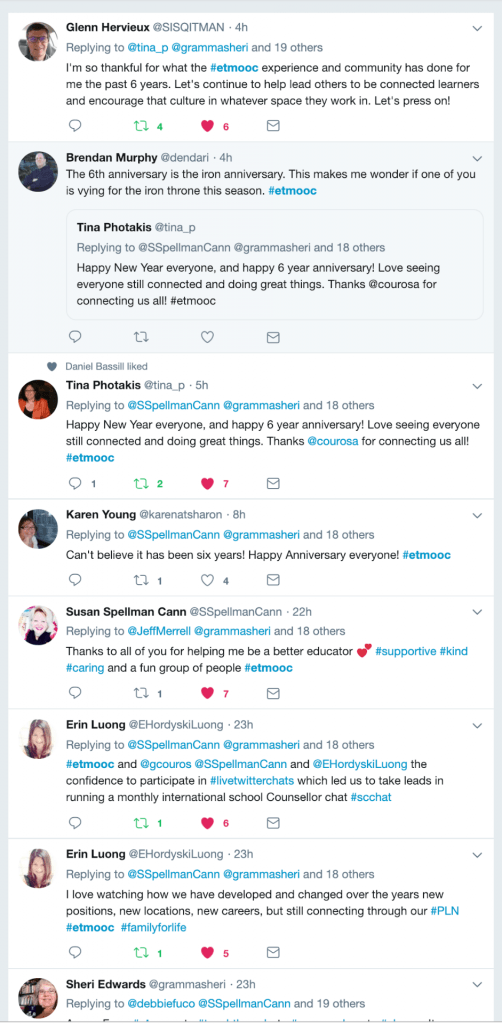 Because, we are all connected, still, through twitter and blogs.
I wrote a About ETmooc here, and from that, here is a summary:
et: educational technology
mooc: massive open online course

massive: hundreds of participants
open: free and open to all
online: all online
course: personalized course: what do you want to learn?

A community of learners connecting, communicating, considering, contributing, collaborating, creating, and curating a body of knowledge open and shared by all based on the needs of the participants
Key Words: Connect, Contribute, Create, Curate
For most of the participants, it was a beginning in understanding what to do with all that new technology– how to engage learners and learning and to provide guidance in its safe use. Here are our topics:
We read, watched, listened, and conversed on those, curating our learning in blogs [list here] and Google Plus [soon to be lost]. All work is still open, one of the components of a connected learning environment, especially for professional development.
I wrote about my start with ETmooc based on these key words, which helped me start on an ambitious journey in my classroom: Connect, Consider, Converse, Curate. Many of us were still quite shy about online connections, and tentative about some of the tech in our classrooms. Many of us were just learning about "create."
And Erin said it well, about how we have grown and changed, and stayed connected:
I love watching how we have developed and changed over the years new positions, new locations, new careers, but still connecting through our #PLN #etmooc #familyforlife

— Erin Luong (@EHordyskiLuong) January 10, 2019
ETmooc on World Sketchnote Day
This represents, to me, those words and ETmooc. The inner arrows go in both directions because the learning is continuous, recursive, and reciprocal. The spiral lines show a continuous connection to the outer, family circle, yet all is open. We connect and share, then consider all ideas as we converse through many venues, curating our learning [and sharing]. It was this process that encouraged me to participate and learn more, in other such communities of learnings, which I immediately applied and blogged about in my classroom. [Example many of us continued in: #clmooc ]
Deeper Considerations
A group of us even dove deeper into our educational queries, led by our friend Ben Wilkoff, with a two-year vlogging channel, Open Spokes. Here's a summary of one of those conversations, Tough Issues. Still of value today, perhaps, especially today:
Family For Life
That's what Erin tweeted: #familyforlife because we found a connection that become important relationships, a personal learning network [PLN]. We became a networked neighborhood, touching bases from time to time after intensive ETmooc and Open Spokes experiences. So thankful for all of you and forAlec Couros, who brought us together.
Happy Birthday! 
May you all continue in your connected learning journey!
---
WC: 497
Day 21
This post is part of a 30-day challenge to reflectively write and post at least 150 words with the hashtag #modigiwri, which started with Anna here. Join us and here goes!
I've also joined the #blogging28 challenge by Edublogs, thanks to Denise's tweet.