What is "Global South?" I thought it meant the southern hemisphere; I didn't even think to look this up, so out of tune to the issue I was.
But then Moshie posted this:
I didn't know what Global South meant, but I looked it up. 29. Søren Pind, Minister of Justice in Denmark, concluded the discussion by declaring that respect for human rights stemmed from universal aspirations."Individuals everywhere want the same thing: #clmooc #writeout pic.twitter.com/7dOxKnJ1wV

— Moshie🐝 (@EatcherVeggies) July 29, 2018
Click the link for the thread, wherein other members of #clmooc chimed in — some of us knowing and some of us not knowing that "Global South" is a similar reference to "third world" countries; it refers to the disparity between the northern, more prosperous countries and the southern, less prosperous countries.
Moshie pointed us to the International Peace Institute article describing some of the issues. After peaking around at a few sites, I found the origin of the phrase started with Carl Oglesby, who thought the term more favorable than "third world" or "undeveloped" countries. While visualizing a map to revise based on my original southern hemisphere map, I found that this issue was discussed and applied frequently in the 1980's with German Chancellor Willie Brandt suggesting a way to map out those countries still struggling; the line became the Brandt Line: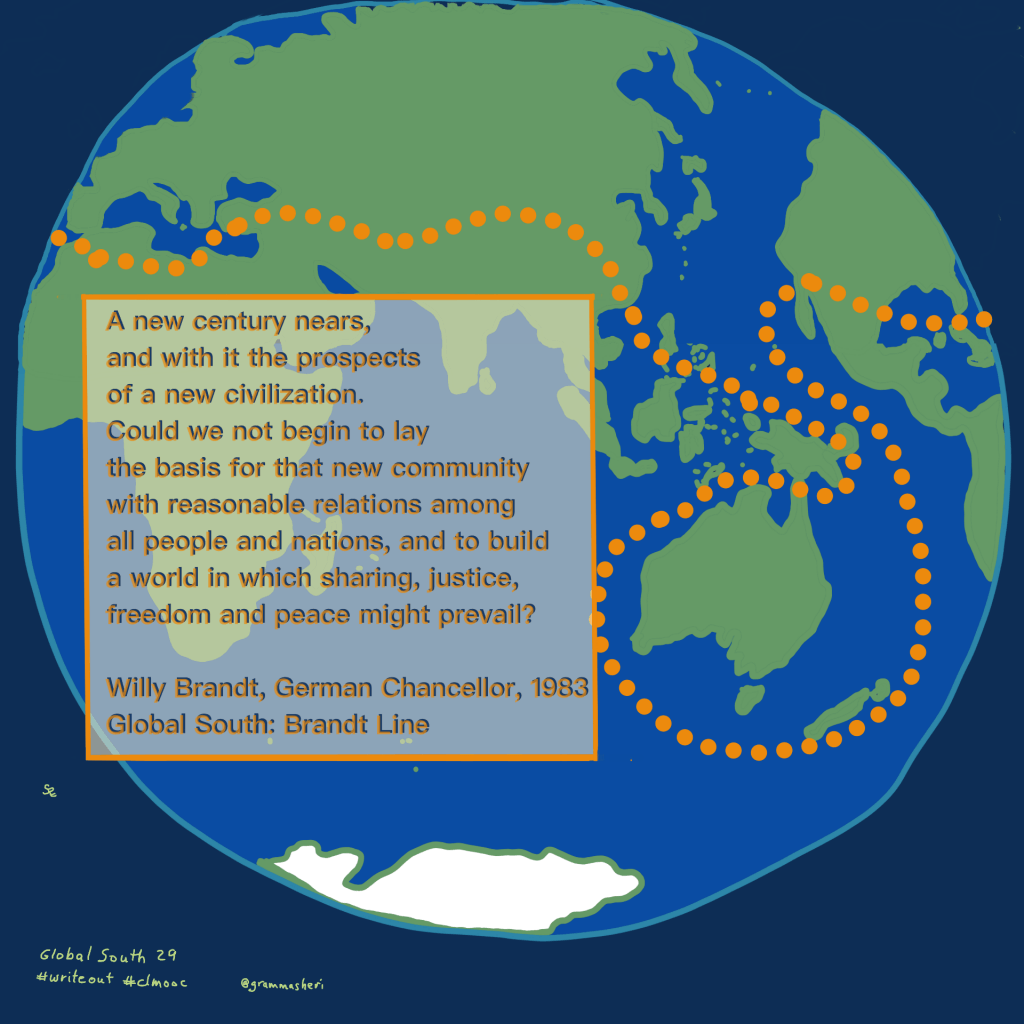 A new century nears, and with it the prospects of a new civilization. Could we not begin to lay the basis for that new community with reasonable relations among all people and nations, and to build a world in which sharing, justice, freedom and peace might prevail?
I found Brandt's keynote quote to be in line with our hope for the world, and a reminder of how leaders of the free world still worked for peace and justice for all.
So when you hear the phrase "Global South," you now have a reference point from which a conversation can begin.
And this little post shows how a simple WriteOut Doodle Project can build international understanding based on one vocabulary term through the connected learning and questioning by the participants, in this case the CLmooc group [any one can join].
I want to thank Moshie, who alerted us to the term's meaning, and to Wentale, who had added the term to our collaborative prompt.
'Twas I that suggested the theme for #julydoodle. thanks for convo so far…. https://t.co/35HwwhT5Up 'neglected cities beyond the west'. #clmooc #WriteOut

— Wendy Taleo (@wentale) July 29, 2018
And finally, since we're "mapping" many things here: understanding, geo-economic/political, and global, here's an image from my classroom, hanging on the wall since 1986 and the subject of many conversations each year:
This map was created by Jesse Levine Turnabout Map – Dist. by Laguna Sales, Inc., 7040 Via Valverde, San Jose, CA 95135 in 1982.  I found an newer adaptation here in an  International Baccalaureate Organization [2017] course on The Evolution of Maps here. And, of course, McArthur's Universal Corrective Map has quite a story:
There's a lot packed into that story; here's an interview by Pineapple Suitcase with Stuart McArthur.
Our only purpose on earth is to accumulate experiences, for which travel is a prerequisite. Our greatest need is not shelter, food, or sex; it's to understand. We can read about an oyster, touch an oyster, have people describe oysters to us, but until we've experienced eating an oyster we don't have understanding of oysters.
It's always good to see through others' eyes, to gain a new perspective so we grow and learn together. And WriteOut and CLmooc certainly offer the chance for participants to understand their world, a global world.
How do you stretch and open your perspectives to improve your understanding of the world?
---
Images / Photos by Sheri:
This post is part of the 2018 Summer #WriteOut in places, parks, poetry, and doodles with #Clmooc. Learn more at CLmooc blog and National Writing Project / National Park Service WriteOut