This post is week 4 of 8 in the 8 Weeks of Summer Blog Challenge for educators.
The Prompt:

How do you Lead/Follow?

How are you a leader among your peers?
How are you a follower among your peers?
On Monday, July 2 I participated in the
#rethink_learning chat on leadership [need to sign-up at participate], moderated by @bbray277 and @raspberryberet3 in which @mkkelly1966 tweeted:
mkkelly1966 Message Jul 2nd @ 4:08 pm
There are so many aspects of leadership, but one important piece is guiding and developing a common vision with your team and working toward that vision each day together. #rethink_learning
That's really a powerful statement. First of all, there are so many "aspects of leadership," and a leader must be as much part of his/her "followers" in order for those aspects to play into success. I strived to be a "teacher leader," and the first part was to look at what our school, our middle school team, saw as necessary for our students to succeed and then to learn as much about that as possible, sharing with my peers as they shared with me. I wrote about how I learned in Impact. And impact occurs with a give and take, for there is a reciprocity in peer leadership that is based on trust and collaboration, which leaders promote and encourage. Our team did this. Mary Kay ended with that necessary component: "each day together."
Next, while our teams worked together, we were "developing a common vision" and "working toward that vision."  Our conversations over students and their work — who they were and the work they did– helped us develop a culture of learning together [and with our students]. It wasn't easy; our middle school team had different ideas than the primary team; the school district often had their own ideas. But each time we met, we focused on our vision — what is our role to helping students succeed, wherever they were in their learning.
For me, I lead by always learning and by always offering to share; my door was always open. I blogged and tweeted and provided professional development differentiated for the unique needs of staff. And I followed as I listened and asked to know what staff needed when providing staff tech training. I followed by listening to my team's ideas to revise what I had learned to embrace the needs of our team for student success– to modify my sharing to fit our team's and our student's needs. And my colleagues reciprocated with their ideas, strategies, and sharing. Together, we created interdisciplinary units, graphic organizers, common strategies, and time for kids' needs [genius hour, interventions, hour of code, etc.].
I think we focused on our vision, and worked together to make it happen as best we could. With a common planning time and sharing the same kids in a small school, we could keep a handle on: what was our goal, who was succeeding, and who needed intervention [academic or otherwise]. A vision. Every day. Together.
Like the dancers at a pow wow, our vision was the beat of the drum, and our dance- the steps towards our goals. We carefully stepped to that beat, that vision, together — sometimes one leading, and sometimes the other, but always around and forward: around and back for reflection and feedback and forward towards goals. We may have learned that from the culture of our students. 🙂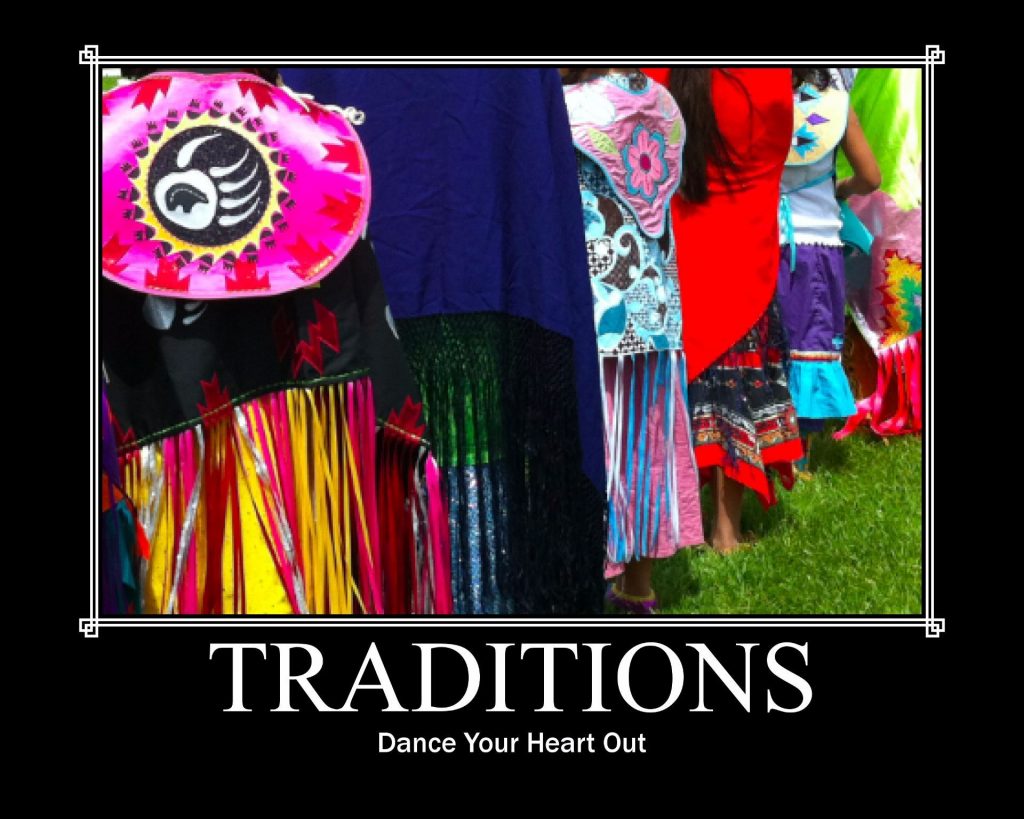 ---
#campnanowrimo 540
Photo by Sheri