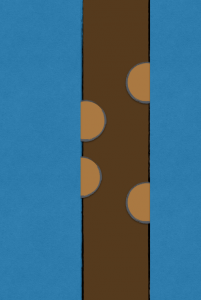 Mom had an old book of puzzles. I loved it. These were my favorite; simple sketches that suggested something. What do you think the above image is?
Unflattening the world has been part of my life – my mom could see beyond the obvious, and helped me look at the bigger picture. As a young mother rushed in front of us in the grocery line, mom would say, "She needs to get her back home for baby's nap." That might not have been true, but mom always took a step back to see a bigger idea and a step into the shoes of others.
Is it a bear climbing a tree? A giraffe walking by your window? A snake slithering across your beach towel?
We need to step around to see. Turn things around, and get a different view. Try to think from another's perspective. Believe in your own!
These are things we discussed today in a learning / school context with Nick Sousanis, author of Unflattening, who wrote the first ever PHD dissertation as a comic.
@EatcherVeggies adds "multimedia multimodal responses" as we open our eyes to more than we see forwards #clmooc with @Nsousanis

— Sheri Edwards (@grammasheri) July 20, 2015
We've got to focus on students, not the test, not the same-for-all; students are not widgets to be boxed up the same. [Pete Seeger — Little Boxes].   We need to be guiding student to discover who they are and what are their passions, which will inspire learning. Instead we have this:
Slowly unlearning the imposed school system of right & wrong and relearning who I am by reclaiming my creative roots @Nsousanis #clmooc — Monica Multer (@Pedestrian_Poet) July 20, 2015

We have a mission, those in the #clmooc, to spread the word of connected learning, which does not necessarily mean always through technology. We are poets and historians, authors and artists, scientists and coaches, engineers and ecologists. And we must as learners discover this by seeing the world in our own and in others' ways. Learners, both we and our students are co-learners together.
Nick shared his ability to extend the view of the world –"stepping back to no longer seeing things head-on, but to also see from the sides" and more. Here's an example. Think of the Buddha. Now in comic form, from our Google Hangout Out On Air with Nick, we can look just at the Buddha, but also step back to see the whole world around because comics are in "sequence with simultaneous recognition" of what might be missed: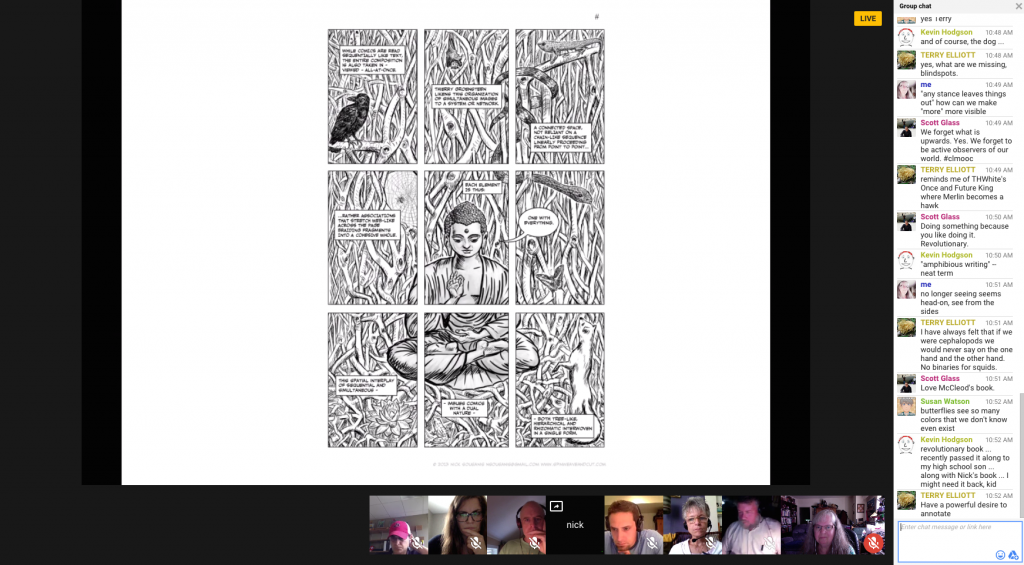 With our every breath, there is always more to think about. So it is with learning, as Terry Elliot always reminds us: [should be adjacent possible]
@telliowkuwp reminds of the "adjecent possible — knowing it will go yet unexpected" this is learning! #clmooc with @Nsousanis

— Sheri Edwards (@grammasheri) July 20, 2015

Learning is messy, and our students need the freedom to learn in their way and time — their passions and interests. We must allow the "adjacent possible" which occurs every day to lead us to the learning that is important to the student. And during that journey, all the other content and culture, skills and strategies, will fall into place — not the same for each student, but they will be what the student needs. This is the personalized and connected learning of today.
It's the process of struggle and questioning, sharing and conversation, feedback and feed forward, that promotes deeper learning that sticks. Yesterday, I wrote about inquiry, and changing my classroom to allow authenticity and creativity to play the largest role in my classroom, and Nick's invitation to see the world with new eyes and in new ways supports that. It takes longer, but the learning is deeper. Nick's process blog posts show how learning and thinking take time; he shares the many iterations of his comics before the final version develops. That's how learning is: time to try, think, reflect, discuss, revise, refine, start over, etc. And he's creating for his purpose and his audience; it's authentic. And so school should be.
How would it feel to see in new ways? Nick asked us to take a plan sheet of paper, any size. Fill it with shapes of your day — the way your day is and feels. Here's mine: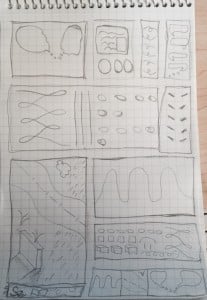 You can "read" it for yourself, and I have my own story for each line and box and curve and angle. I told about calm, happy, whimsical, social, sad, anxious, all in the day of shapes. Try it. See what your day is. For me, I was able to be thankful for the goodness, and reflective and at peace on the sadness. What a great idea for the classroom to open the mind to another way of seeing and expressing one's narrative. So many teacher writers have shared the need for diverse pathways to writing [Ralph Fletcher, Georgia Heard, Donald Murray, to name just three], and for whatever we teach, we need those pathways so our students can be thinkers, not just copiers.
We learn by doing, and that is one of the main points Nick shared: let's not talk about it — let's start drawing and doing!  Thank's Nick Sousanis for your time and for inspiring us.
Want to be inspired? You can be inspired too by watching here and adding your "Spaces of My Day" #dayincomics to this Padlet that Kevin Hodgson started.
The Make with Me with Nick Sousanis is part of the CLmooc , Connected Learning Massive Open Online Collaboration, whose principles brought this group together:  we are networked peers supporting each other in our interests and shared purpose, which powered Anna Smith to invite Nick to share his ideas [academic / production-centered ] so we could create and make and transform.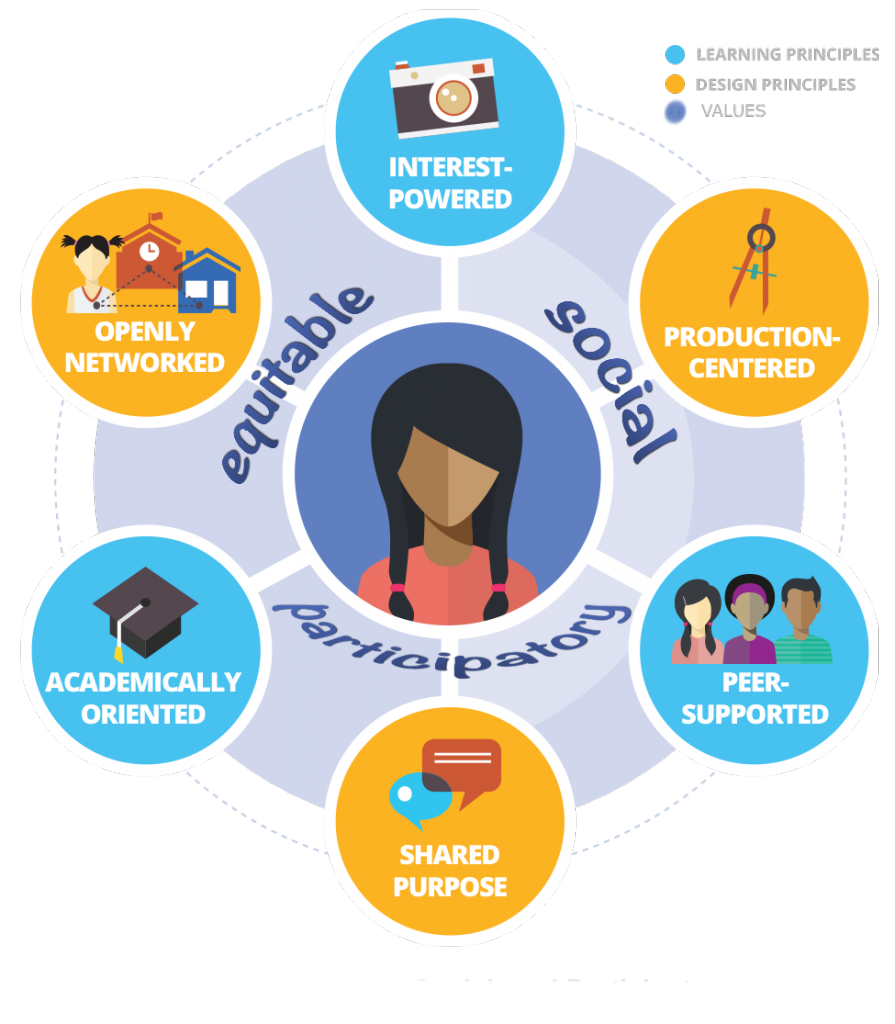 Now, go see the world in new ways. Come back and share what you see.
---
---
Photo Credits:
Puzzle Doodles 1 and 2: by Sheri
Screenshot of Buddha from Nick's presentation in Google Hangout On Air
My Day Sketch: by Sheri
Connected Learning Principles: Connected Learning
John Dewey: by Sheri