@cogdog @dogtrax @telliowkuwp @Bali_Maha @NomadWarMachine Challenge: using photo as prompt write blog post #clmooc pic.twitter.com/wz31nZS8ZL

— Simon Ensor (@sensor63) July 19, 2015
Puzzles are systems, as Steve Wheeler explains in his blog about the above picture sent to him by Simon Ensor for Steve's #blimage challenge [send him an image and he'll blog about it related to learning]. I like what he said, and it's helping me with my own inquiry.
1–

you don't really know exactly how you're going to get to the end (if there ever is an 'end'), or how long it will take, but you do have a an image on the front of the box that contains the pieces, as a reference point to what it should look like when completed.
True, with learning – we don't always know where we're going until we get started. Then as teachers we need to figure out a strategy, a system, to help each student.  As the puzzle pieces in the image show, there's quite a bit of blue ocean to dive into and catch the wave or current that will get you and the student where they need to be. I see texts and images [media] to read and understand. I see buildings which might be resources needed to learn. I see roads to build or follow to guide us. I see wooden planks, because we might have to build our own support. I see a cup filled with nourishment to sustain the whole child, perhaps feedback or an organizer — or just a snack to beef up a hungry stomach. I see a basket to hold our strategies, or save them to share with others who might need it. I see lots of unknowns that might or might not fit the needs of the learner, but at bottom in center is a child: and that's who all our efforts are for.
2

Who is to say which method is a) more effective and b) more enjoyable?
 I would say the teacher and learner will decide this [certainly not a test]. Learning is a puzzle and we try one piece and then another. We watch how others work through it and try our own way. Ah, is such a good feeling after a journey of trials. How do we sort out the puzzle and the journey together?
That is what some of us in #clmooc [Connected Learning Massive Open Online Collaboration] have set about understanding through an inquiry, a puzzle, a question of our own.  Margaret Simon is wondering, "How can I create an environment for student writing that encourages individual expression while covering necessary benchmarks?" She included this graphic by Christy Ball as a possible way to to include the student  and the student's passion in a process that will allow creativity while meeting the standards. We've got to find the way that is effective for each child.
Which brings us to another idea, an idea that is like the diverse group of students who flow into our rooms each morning, as random as puzzle pieces dumped out of a box — yet each in its own way beautiful and unique, worthy of and needing the opportunity to develop into a talented and whole person [or puzzle]. How do we make that happen?
3

These questions are reminiscent of a postmodern perspective on education – where learning is random and chaotic, has multiple layers and diverse possibilities, and where the rules might just as easily be thrown out of the window. Ultimately, we know that not everything that is taught is learnt, and not everything that is learnt is taught.
When the box cover is followed, we'll finish an exact replica in our puzzle. Children and their learning are puzzle pieces as well — and our curriculum the box cover, as Steve suggests. However, what we teach is not always what students will learn — they notice what they need to know at that time. And that's our puzzle – to accept that and go with it, perhaps adding in what we originally taught, or perhaps finding a new path also needed. A box cover is not what we need today. Technology brings us tools to personalize, to allow students to lead the way as we guide and offer feedback [along with peers] in a learning community that extends beyond the classroom walls. Curriculum is not just standards or content, it is also how to learn, reflect, connect, create, collaborate, and curate.
I think curriculum is a wardrobe, each different for each child, and filled with the choices in clothes and accessories needed to learn and succeed at goals. Imagine the choices an author, historian, mathematician, biologist, journalist would make or need. And many students would need to sew their own. Sometimes we could layer the items for a needed effect. One day we may need Rachel Carson's boots as she explores the Atlantic shore or on another day grab our Flair pens to become architects like Frank Lloyd Wright. But there they are, waiting for us when we have chosen our interests and passions.
And it's true that each student will take a different path, similar supports in curriculum can be implemented for small group learning, and teachers see where the students are headed and begin to lay out suggestions. Or, as in Narnia, we may find a wonderful surprise.
This is what I have been considering for my inquiry question, which is "How do I create authentic learning spaces of making and reflecting that empower self-directed learning?" I've been reading Creative Schools by Sir Ken Robinson and Digital Portfolios by Matt Renwick, participating in book clubs with like-minded educators for each of them. So when Margaret started her Padlet on Creativity, I bookmarked it as resources for my inquiry as well.
Like the learners in my classroom, I'm puzzling about something for which I am passionate: to enable my students to become thinking, caring, and productive persons who follow their own passions and learn and adapt the passions of their peers in our learning community. And I'm starting by doing something: sharing with my peers and reading and discussing to figure out a path to do so. I get feedback from my peers and I begin to take a direction. Now, I'm not studying or practicing any Common Core State Standards in particular, but I am deeply applying many while I do this. And that's what John Dewey said: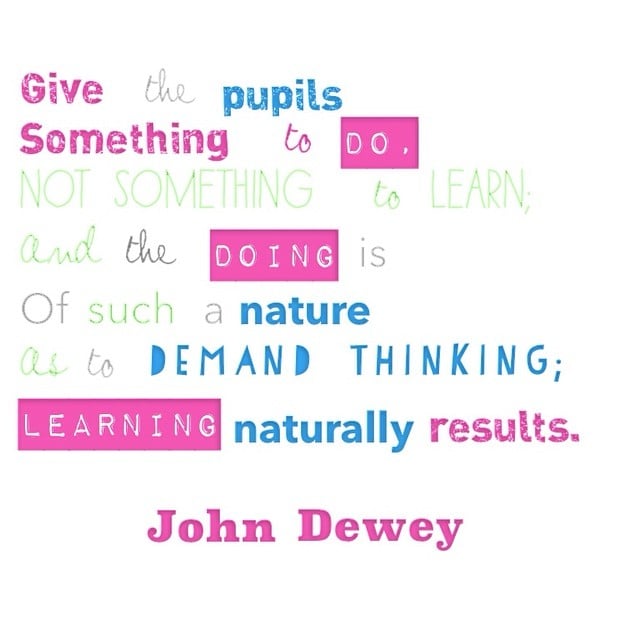 In the puzzle of education, we've forgotten that is the doing that brings the learning.  So I created my own process to start with — based on many choices the students and I discuss together:
Notice that the standards aren't even considered until after discussion and when we are sharing out plans for the first time. Just like in this blog, I"m writing for information with an introduction, body, and conclusion, building in evidence and flow — after much conversation, thinking, and doing. The flow around the above cycle is not sequential; I'll need to change the arrow to dotted to show that there is not a linear flow, but a recursive sense with lots of reflection, feedback, and revision in our process and product.
So, back to the beginning, I'm puzzling through this authenticity and creativity in my language arts classroom, with Michael Weller and others. Some of my thoughts from my Evernote musings are:
YouthVoices would give a focus for both students and teachers — their interests and our curricular requirements.
As I write this, I'm thinking of a menu of choices for writing, with student interest in mind, and an authentic purpose of sharing. 
I've also created a BlendSpace for my resources and ideas, a sort of wardrobe to organize and pull from as needed.  And I thank Steve Wheeler, Margaret Simon, Michael Weller for helping put my puzzle, and my students' puzzle together in a way that's a system that fits each learner and teacher.
---
MY #DigiLit Sunday:  MindMeister Maps / Image Writing Prompt
#DigiLit Sunday Sponsored by Margaret Simon: Visit her blog for other DigiLit Sunday bloggers.
---
Photo Credits
Simon Ensor puzzle
Christy Ball infographic
Sheri Edwards: Screenshot of Creative Commons "Wardrobe" image search
Sheri Edwards Dewey and Mind Meister MindMap
Margaret Simon: #DigitLit Sunday Badge