The Daily Create WriteOut prompt today [ #DS106 @ds106dc #tdc3928 #writeout ] asks us to remix field notes from the National Park Service notes here. I chose the notes on sampling coastal topography at Miller Field, Gateway National Recreation Area by Bridget Ye.
It reminded me of how, in our drives in Eastern Washington State, we wonder about the coulee walls- the hundreds of feet thick basalt flows we drive through in many of the highways and byways of the Columbia Basin.
Many people think the flows are from the Cascade Mountain volcanoes, but data taken from measurement surveys show these flows — sometimes two miles thick — are millions of years older than the Cascades. Read more at the Washington Department of Natural Resources. And listen to the video by Central Washington University's Nick on the Rocks!
For information on Dry Falls, where I took the picture, the Washington DNR provides this page: Dry Falls. And this video from Nick on the Rocks:
I decided to add to Bridget Ye's notes with notes on the Columbia Basin Basalt Flows. The Remix:
And so a poem, too. I remember long ago the culture teacher, Sylvia Abrahamson told stories about "Grandfather Rock– the oldest people."
Grandfather Rock

The oldest people
Grandfather Rock
Standing bold,
So old

The oldest stories
Grandfather tales
Layers fold,
Time holds.

The oldest times
Grandfather Rock
the past: behold!
And dreams unfold.

Sheri Edwards
10.15.22 290.365.22
Poetry/Photography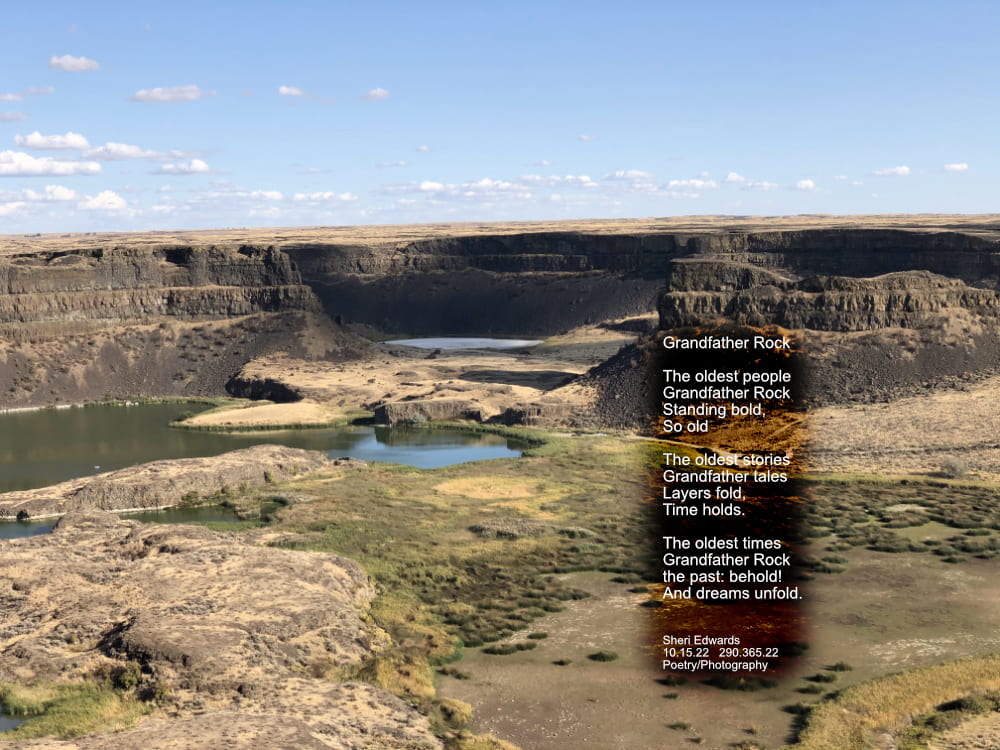 ---
This post is part of the October WRITEOUT adventure of the National Writing Project and the National Park Service — a STEAM-powered Write Out 2022. Organized as a public invitation to get out and create, supported by a series of free online activities, Write Out invites educators, students, and families to explore national parks and other public spaces. The goal is to connect and learn through place-based writing and sharing. Learn more and sign up: https://writeout.nwp.org