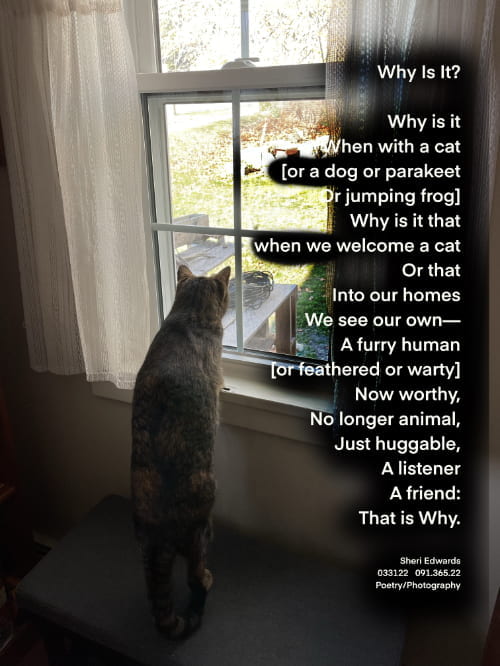 Writing Inspiration
A week ago I started this poem without finishing it. The cat had been wildly running around up her cat tree, around the living room, and back out the back door. She was running around like she had ADHD and couldn't focus or sit still, like an anxious three-year-old, except we can't ask her what she needs. And, with our wild cat, we can't pick her up and hug her because— though she looks huggable, she rarely accepts hugs. She lets us know when we can pet her. Perhaps she's autistic. But there's the thing: as soon as we brought her home, no matter how wild she is, she is now part of our human family and is treated as such.
I snapped this picture, because we have this new little window with bench beneath it to hold shoes. Today, she sits in front of me and stares. she rubs my leg [she can pet us]. I ask her, "What do you want, Itty Bitty?"
As soon as I ask, she stands up and starts walking to the bedroom— ears listening behind her, walking slowly to be sure I'm following.
She hops up onto the bench where both the window and the curtains are closed. She stares at the split in the curtains.
I am trained.
I open the curtains and the window so she can watch the robin in the back yard. You can just barely see the robin above the "w" in "when" in the picture.
And so we ask, why is it, even when they are pests, we welcome them as one of us?
Or perhaps I need to write a poem about being part of a cat pride?
Writing Process
As I said, I started this poem a week ago and put it away at the top of my digital journal [My Notes app on my iPhone] so I wouldn't forget it. I looked at it again and added a bit, then, since today is the last day of Slice of Life and so the cat must be part of this journey, I decided to finish the poem. Here's my thinking: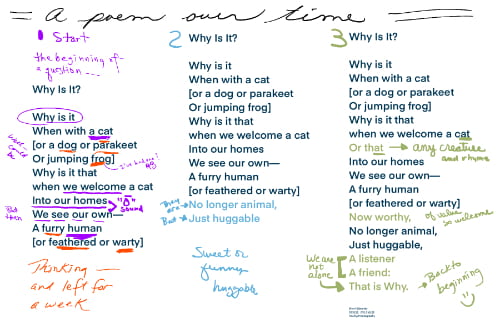 You can see that behind the words are my intentions and thinking, but what is part of the poem leaves some thinking for the reader to infer meaning, and the reader's meaning may be different from mine. Especially if their pet is a snake or turtle. But even still— those can still be listeners, and friends.
Poetry
Why Is It?

Why is it
When with a cat
[or a dog or parakeet
Or jumping frog]
Why is it that
when we welcome a cat
Or that
Into our homes
We see our own—
A furry human
[or feathered or warty]
Now worthy,
No longer animal,
Just huggable,
A listener
A friend:
That is Why.

Sheri Edwards
033122 091.365.22
Poetry/Photography
Your Turn
Give some love to your pet, or a pet you'd like to have. What is fun, interesting, pesky, and lovable about your pet or the one you'll love— or your neighbor's pet? What is the best of your pet? Ask it in a question and include some of the pet's other traits or actions. Perhaps start out with "Why is it that…"