Sing! Dance! Laugh! in the warmth

of the strengthening sun;

Sing! Dance! Laugh! when the light

of the lengthening day has begun!
Easter, from Ēostre or Ostara, goddess of dawn, according to Wikipedia.
---
And, a bit of haiku, #smallpoems from #clmooc, started by Algot, added to by Keven and Sheri:
sun shining brightly
since the dawn has now arrived
warmth of early spring#SundayHaiku #CLMOOC #SmallPoems

— Algot Runeman (@algotruneman) April 12, 2020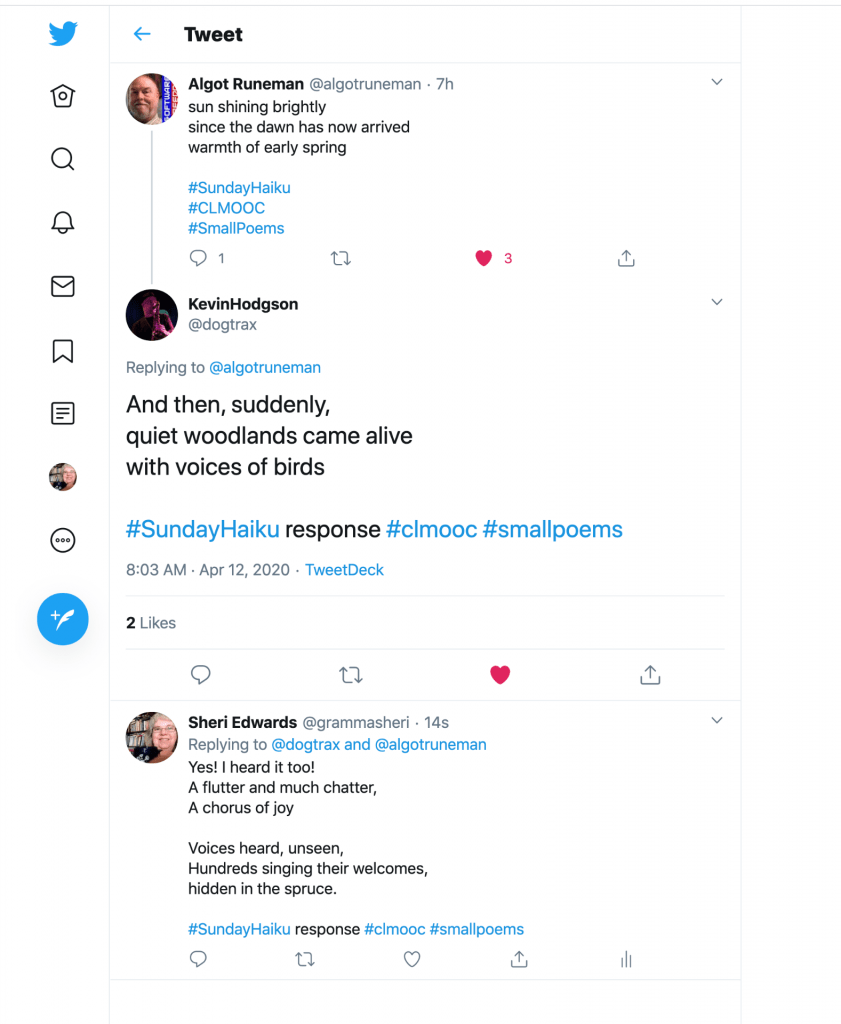 Yes! I heard it too!

A flutter and much chatter,

A chorus of joy

Voices heard, unseen,

Hundreds singing their welcomes,

hidden in the spruce.
Prompts:
Listen to the sounds around you — inside or outside. Capture, without naming, in words and phrases.
Add a verse of haiku to add to the story –the one started by Algot [above]
Read your own favorite poem and add a verse of your own.
---
About this post:
Be safe out there. Find ways to help yourself, your family, and others keep going! We can do this together!
April is time for NaPoWriMo — National Poetry Writing Month, try a bit of poetry and art to encourage others to be safe with each other. Something short. Something inclusive. Something of spring and hope. #NaPoWriMo/#GloPoWriMo
The Academy of Poets encourages us to write #shelterinpoems. Get some ideas there and share your own.
Tons of information can be found at Poets.org: National Poetry Month and here: Virtual Programs.
National Council of Teachers of English also offers suggestions here.