Sometimes, I look up and realize I've been working, searching, connecting, clicking on a topic in my browser and have oodles of tabs open!
While I occasionally "star" some or "bookmark" some on a reading day, on a research day, I mostly I just open them. Fortunately, there's an easy way to save those into a collection using the Firefox or Chrome Extension OneTab.
One of its benefits is that you improve your browsing since many open tabs causes a slow down.
If you're a techy person, these pages will quickly get you up and running in Chrome:
For the novice, here's how OneTab works:
OneTab: Collect Your Open Tabs!
With just a click of the OneTab extension icon:
All my tabs are collected together in one OneTab webpage:
This page from 3/18 is pinned to the top. I've been thinking about and collecting research on Homework for quite a while. Below this are all my other 1,632 saved tabs! Here's a view of some of those collections:
OneTab Options
I rename the group using the "More" button
Notice I can:
restore all
delete all
share as web page
name the group
lock the group [so when I click one, it's link stays]
star this group to the top
get help
Even if I lock a group, I can still click and drag tabs into or out of the group if I need to rearrange the tabs into different groupings. I delete one of the items by unlocking
the group and clicking the "x" that appears to it's left.
Sharing
A shared webpage looks like this to the reader:
Scan the QR Code image, and it opens to that page of links. The owner of the page includes a header that looks like the image below so you can unshare the page with the "Delete this shared page" link.
Copy
I can also copy a collection from either type of page and paste into an Evernote, Google Doc, or Blog, but the actual URL links do not copy over to Google Keep:
Viewing
I also drag the URL of the OneTab page of my collections into my bookmark bar so I can easily click that icon to view my collections. But viewing the collections can also be accomplished by right-clicking on the OneTab Extension Icon and choose "Display OneTab"
Exporting
Finally, since all technology eventually changes by closing, losing, or upgrading, be sure to export your tabs occasionally using the link at far right at the top of your page: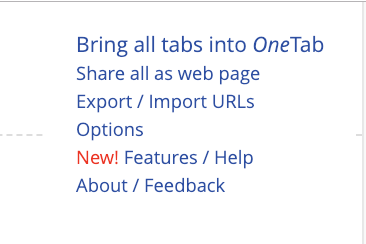 Clicking that will generate a plain text window which to select all and paste into Google Doc or a plain text document to save. It does not save the titles, but does create a break between the groups. I just search for keywords to find the section I want.
My usual backup though is to highlight a collection and copy/paste into an Evernote note, as stated before.
OneTab Curation
OneTab keeps my browser working well by consolidating the open tabs. It lets me collect research as I'm searching in my browser and opening tabs of relevant information. It allows me to rearrange and organize the links into an order and grouping of topic and relevance. I can copy for elsewhere and share with others, although there is no annotation ability.
One of my jobs is to research information on various topics, and OneTab offers a quick way to organize and group the research for further analysis and consideration to later compose and present in various ways.
I hope this little howto helps you; let me know if it does.
 Click to enlarge.
What strategy or tool do you use that helps you quickly organize your open tabs?
---
This series is a continuation of #blogging28 and my February Goals.
All screenshots and doodle art by Sheri