In my Mac and iOS environment, I love the ease of use with Apple Notes, which is an Apple application on every one if its devices. So it's there, in the Apple Cloud, sharing my notes between devices.
Apple Help Sites
Why and How
As I'm creating a post, researching topics, or browsing topics of interest, I sometimes want to save related ideas together for later or for use in the post I'm writing. Apple Notes lets me easily copy/paste sites on my desktop from Chrome to my notes.
When I use Safari, there's a handy "Share" button on the right in Safari:
I can share immediately to any of these apps:
If I share to Notes, I can choose to add text and to which note or folder in which to place it.
On my desktop, I collect from Chrome by Copy and Pasting into a note I've opened for the topic– all links are clickable.
My notes are on the right in this the image for the topic of curation. I started this in the middle of writing about Momentum: Part 2 Topics when I realized that gathering all that information required a way to curate it. I was going to include curation in that post while working on it, but that would be too long as an additional, adjacent point to the idea of gathering topics. So I saved the info into a note ready for consideration after the topics on Momentum.  Doesn't this happen to you too? And to save the info for later use, what is your strategy?
In the middle column are listed the notes. I try to remember to start with a title of the topic for easy searching and viewing.
The left column are the folders. For a longer project, a folder works well to hold all the related notes. I have several notes for Poetry.
On my iPhone or iPad I have the exact same information immediately:
Move left for the folders:
On desktop or device, I can search for any of my key words. Wondering about accounts? That's connecting my other email accounts.
This is how easy it is to add a website from Safari in any iOS device to Apple Notes. Matt Miller shared his link to his amazing graphic organizers web page. Note the share button at the bottom of the Safari page on my iPhone.
I click it, and can choose Apple Notes among the many apps I could share with [keep scrolling to the left for more apps].
I add the info title or more notes: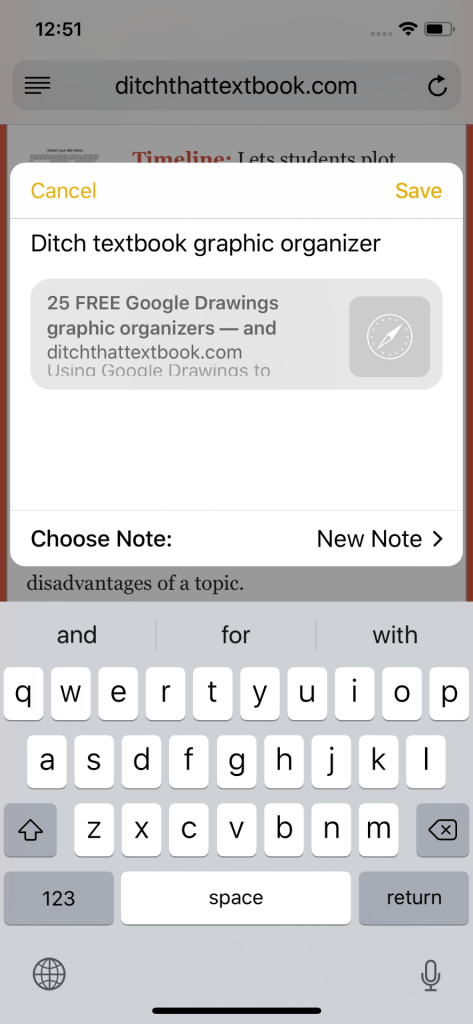 Notice the "New Note" at the lower right of the note. I can click there to choose where to save the note– to a folder or a note I've already started.
It's immediately saved to my notes — on my device, and
all my devices and desktop:
As you can see, that is very handy. Especially since I can save to a note or folder and search keywords to find it later when I need it for a project.
One other thing my Mac platform does now: I can copy something to the clipboard on one device and that clipboard is available to paste on all my other devices. Whoa and Wow!
Apple Notes is one of my quickest ways to save information with a note, and have it available on all my Apple devices. However, sharing the information can be done only with other iCloud users [documentation]. I don't mind this; I like the security and privacy Apple offers. If I want to share, I have other options, which will be part of this series.
Apple Notes works well for me.
What is your first, quick "go to tool" as you save and curate resources?
---
This series is a continuation of #blogging28 and my February Goals.
All screenshots and doodle art by Sheri