Hobbies in the Classroom
On Sunday, Karen Richardson posted a great memory of crocheting— and tied it to math and science. She suggests that we should encourage hobbies during the school day, to which I heartily agree. #GeniusHour is a great way to do accomplish that. Here's what Karen said:
Hobbies like mine can spark that "lifelong learning" we talk about as educators. And, I know the school day is packed with stuff, but I think it is important to find time for these kinds of activities within the hours of school rather than as after school programs so we can reach as many kids as possible.  ~ Karen Richardson
When we struggle with things about which we are interested or even passionate, we learn to adapt, persevere, retry, flex, and ask for help when we get stuck. We learn to solve the issues and work around the obstacles that life always throws at us. Learning we can do this is an important skill– and it's easier to learn with the things we like. That's another reason the pursuit of hobbies during school time is important.
Years ago I created this poem about struggle for NaPoWriMo, which captures the good side of struggle:
I appreciate that Karen found ways to incorporate her hobby into math and science; a demonstration of the possibilities for hooking students into lifelong learning.
How would you incorporate learner interests in your classroom?
2 About Struggle
Like Karen, I learned crochet from my family. In my case, from my mom. It was a struggle. She was right-handed, and I am left-handed, and she couldn't tell if I was moving the yarn correctly because it looked backwards to her. And I kept trying to imagine what she was doing and copy it with my left hand. It was frustrating. Finally, she bought little books for me with the directions in text and images, though they were still from a right hand view. But they were clear and in parts so I could understand. Here's an example from 1972, a 25-cent booklet by Dell Purse Books.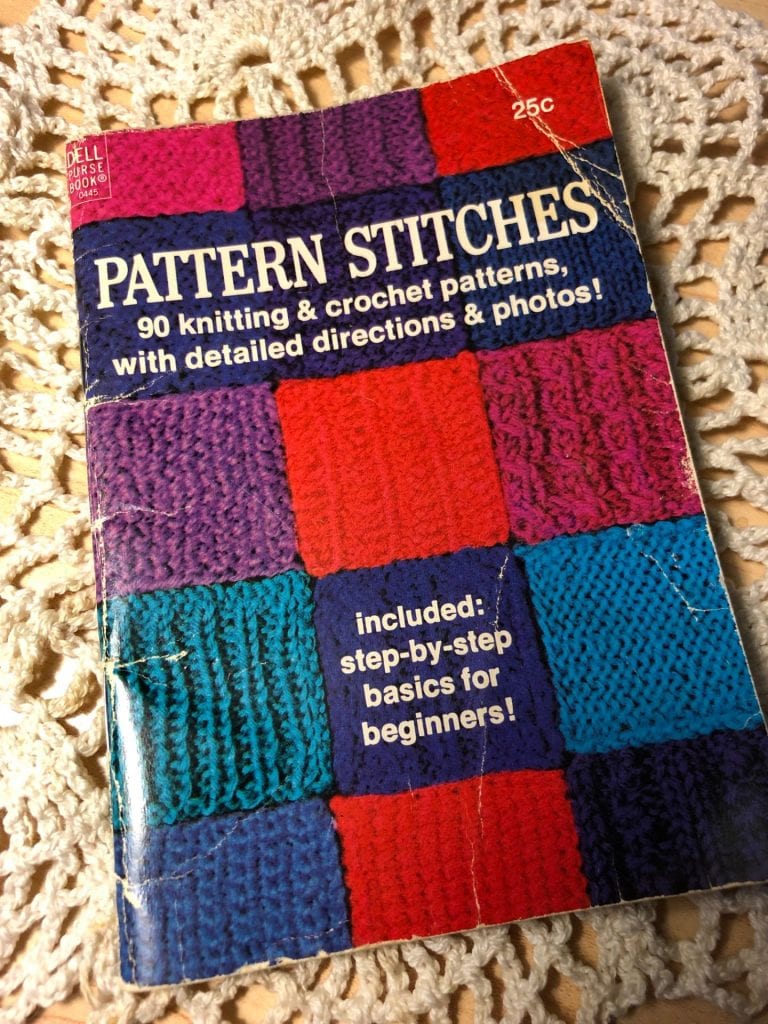 Note the directions, "yarn over:"
To me that meant to lift the yarn over my needle. And that's what I did, and that's how I crochet to this day, which is more time consuming than putting your "needle under."  I literally lift the yarn over my hook with my right hand instead of moving my needle underneath so the yarn is over the hook. Ha. Ha. Ha. Had the directions stated, "needle under," I would look like I am crocheting, but now everyone says I look like I'm knitting. I'm pretty fast, but everyone laughs. And that's OK. I learned through a little struggle to crochet my way because my mom found a way to help me figure it out without both of us getting frustrated. And that's what teachers do.
I'm not an expert, still a novice, but I've made coasters, blankets, and barbie dresses. And I've taught my granddaughters, emphasizing what "yarn over" really means.
Mom's Crochet Work
The red, white, and silver crochet in the images above are from a very large doily my mom made. She liked to use color and create items, like this container and doily now in my craft area:
And she created soft doilies as well:
And traditional doilies, like this one now under a night lamp surrounded by grandkid items:
And the usual diamond/pineapple doilies as the one below, which is topped by a purple one made by a granddaughter:
So glad to be able to share and record these beauties made by my mom. As my granddaughters get married, I give each one of the nice ones as part of their wedding presents. Perhaps my grandsons want them as well… [the boys are pretty awesome that way].
My Crochet Work And Play Today
I found the yarn and crochet hooks when we adopted a new kitty. She needed a few new toys, and these little "mice" are perfect. Some of the hooks I use were also my moms. I make a new one almost every other day because she hides them, probably under the couch.
We play a game.
Itty has a tall cat tree, taller than I am. She loves it there, but she does not want her toys there. I put the crocheted mice in the top, and she immediately takes  them down.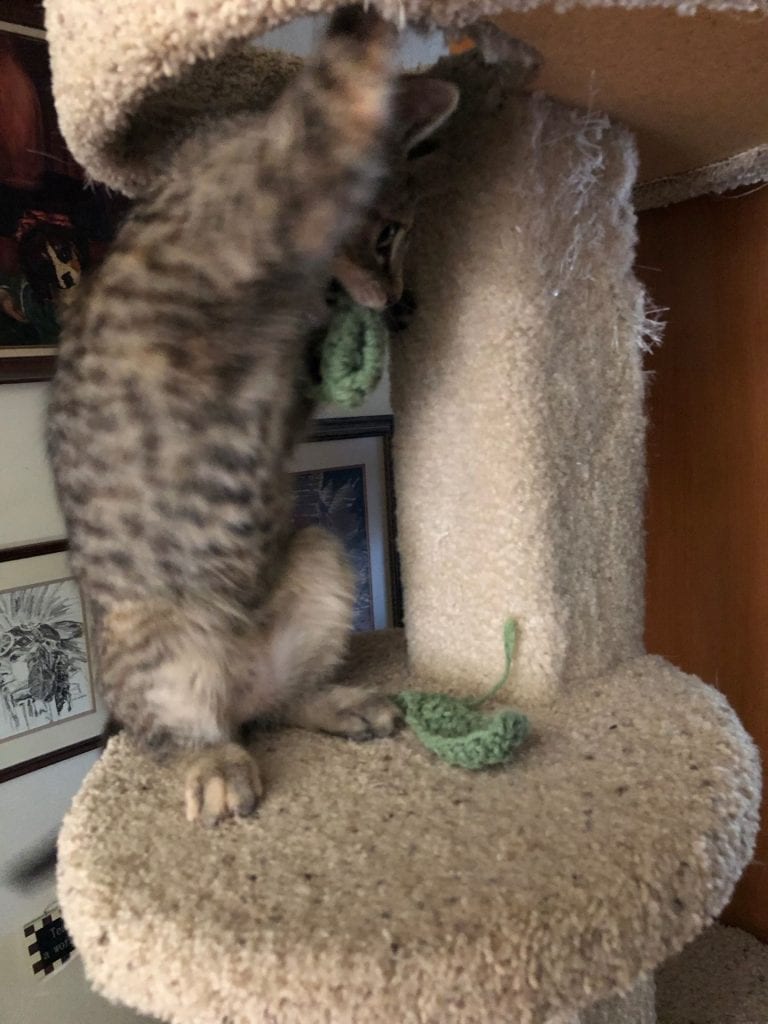 She sometimes takes time out to catch her tail, because, you know, she is still a Itty is still a kitty.
She can play for an hour. Bringing them down and carrying them off to the rug in front of the couch, waiting for me to pick them up and carry them up to the tree again. She tries different ways to hold them, sometimes dropping them off the edge, sometimes bringing them to Scott's shoes and trying to drop them in. And sometimes, if we are not playing, she brings the "mice" to me so I'll play. Very fun to watch a kitty grow and learn. Every creature struggles and learns.
And that's a slice of my life, a small story of family, struggle, and learning.
---
WC: 858
Day 18
This post is part of a 30-day challenge to reflectively write and post at least 150 words with the hashtag #modigiwri, which started with Anna here. Join us and here goes!
I've also joined the #blogging28 challenge by Edublogs, thanks to Denise's tweet.
I'm working a day ahead, and I commented on Theresa's annual reflection post here. It's another way to review your year, and develop some "commandments" to guide you to meet your resolutions. Take a peek; you'll be impressed.