What do you believe?
That's the question / make this week for our #clmooc. I was honored to participate in the Hangout on Monday with an amazing group of educators. The Make With Me hangout discussed credos, featuring +TERRY ELLIOTT +Chris Lawrence +Chad Sansing +Bart Miller +Sheri Edwards and +Kevin Hodgson, check out the archive video and chat. I was nervous, and Terry did a great job facilitating, with help from others monitoring the chat. When you listen, you will here how we are all working in the #clmooc at our own pace, that we could be activists for our school to make changes, that what we do is a work in progress. For your credo, we talked about going with your gut, personalize it, and think about your students. Lots of great info.
How do you start writing a credo? I've always tried to connect my beliefs about education and learners to the vision of where I work. Here's a page on how I connect our school's mission statement to my own pedagogy. It seemed important to me to reflect on how what I do connects to our mission — how I make our mission happen. I read that before I started writing and after I read all the terrific examples provided by our facilitators for this week.
But then I asked myself, what is most important to me? At the top if this page is a motto I follow. So what does that mean? After talking to Terry (tweets) I created this video:

But guess what? It's only remixable in Popcorn! I wanted it to be simple and clean, but represent what I know from my experience to be so important when working with middle school kids.
This is supposed to be connected learning! However, the credo is YOURS, so create away!
Is a splashly one like — I think it was Chris — dynamic.-  more your style? Or a coded thimble like Chad's? or a flowchart / diagram like Bart's?  Will you join with others to create a manifesto?
Remember, go with your heart, try to consider the three elements of connected learning: equity, full participation, and social connectedness or social embeddedness.
I went back to the drawing board and listed what I believed in again. It depends on the context that you frame it. Here are ideas in a reflection from #etmooc. And– here's my popcorn video taken from parts of my list, rearranged according to the three elements. It flows better with "I believe…"  I wish the music would play through, though, and not stop at the pauses. And it's still not right. It's still too much, don't you think?

But think about it: I'm doing all the things we want, we need, kids to do: think, plan, try, test, share, revise, review, think, plan, organize, share, try, test, review, revise, repeat. Add, delete, substitute, elaborate, illustrate, explain. Get the message clear. And that takes time, and with connections and feedback, it improves.
How will you create a concise credo to reflect connected learning?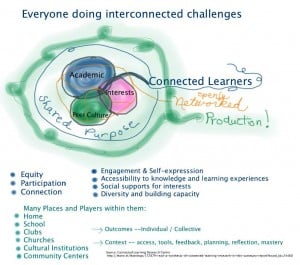 A lot to think about, but then there's this:
Just start with this and write…
PS
I found an amazing pianist on SoundCloud: GracieGoose and her composition for a Main Theme: Short Film  I used in the Popcord Credo, but you'll want to here it without interruptions.