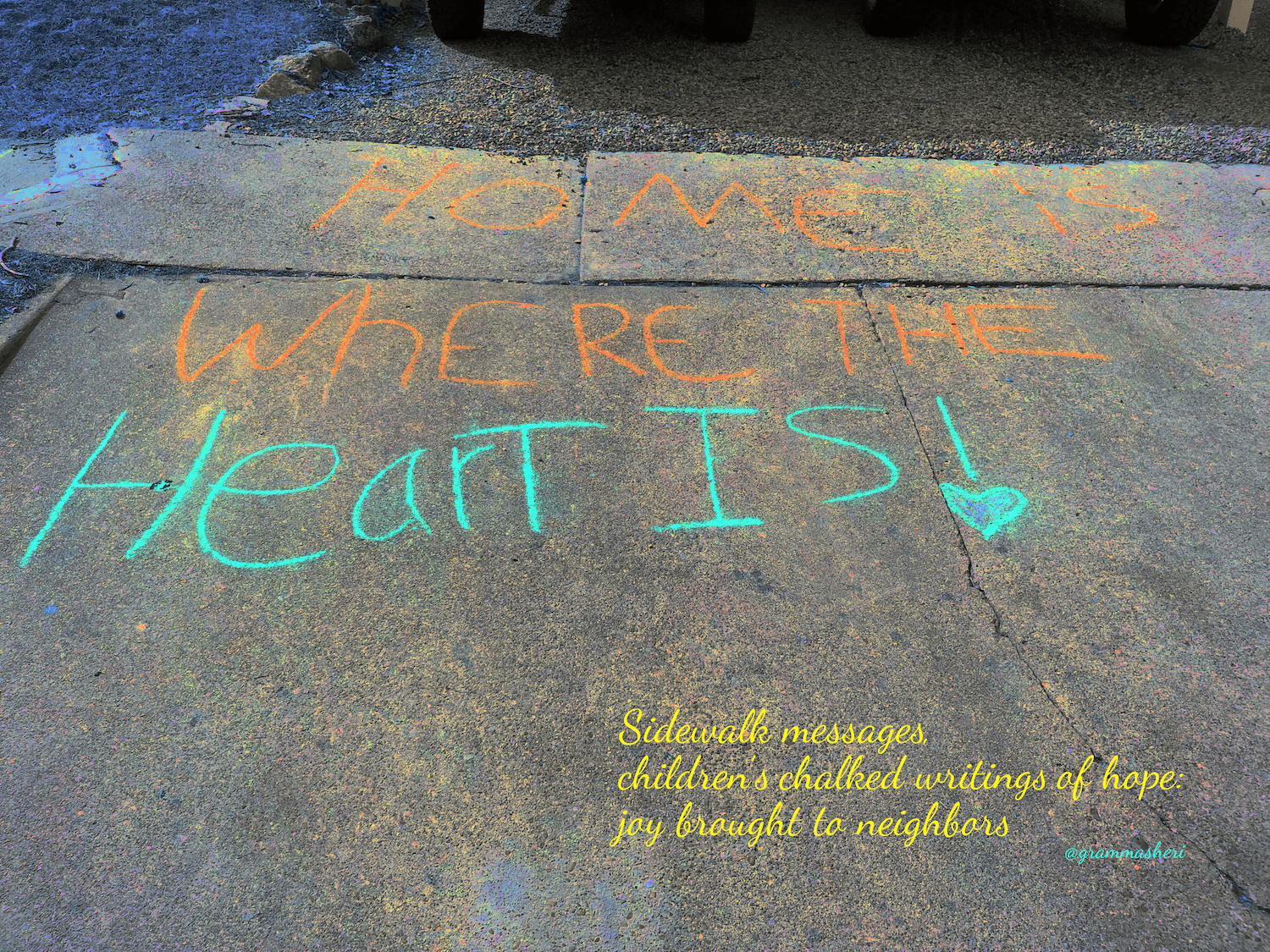 Haiku Hope

Sidewalk messages,

children's chalked writings of hope:

joy brought to neighbors.
---
Loved seeing this chalked sidewalk and other messages chalked by children around the neighborhood — a great way to say hello to neighbors who cannot get out and to send messages while remaining social distant.
A friend is sponsoring a Coronavirus Haiku challenge: An Invitation to Connect and Write Poetry NPM20 Day2. Inspired by the sidewalk messages, I used that to write my haiku and add it to the slides.
To learn how to write a Haiku, See children's poet  Ken Nesbitt's How To Write a Haiku.
Prompt:

Do some sidewalk writing to greet your neighbors.
Find some image of hope in your neighborhood and snap a picture.
Try some haiku, perhaps start a kid's version slides, with your parent's permission.
Or, try another poem form from others shared by poet Ken Nesbitt: Writing Lessons
---
Haiku to Tanka
If you want to challenge yourself, try writing a tanka poem — which really is a poem of two stories, building on one haiku.  See Ken Nesbitt's excellent explanation here: How To Write a Tanka Poem.
I decided to do that with my haiku.  That meant I needed to revise my haiku — here's my progression of revision:
1 First Haiku:
Neighborhood kids chalk

messages, writing out hope:

sidewalk connections.
2 Haiku:
Sidewalk messages,

children's chalked writings of hope:

bring joy to neighbors.
3 Haiku:
To tell a story in my haiku that could be continued in my tanka, I needed the last line to be more of a statement, so I changed it to:
Sidewalk messages,

children's chalked writings of hope:

joy brought to neighbors
"Joy brought to neighbors" can stand on its own. That way, it ends the haiku story so I can than add to that in a second story for the tanka.
4 Tanka:
Sidewalk messages

children's chalked writings of hope

joy brought to neighbors

the elders alone inside

as children color wishes
Have a go at tanka!  It's a fun way to combine stories, cause/effect, opposites, and always, hope.
---
About this post:
Be safe out there.  April is time for NaPoWriMo — National Poetry Writing Month, try a bit of poetry and art to encourage others to be safe with each other. Something short. Something inclusive. Something of spring and hope. #NaPoWriMo/#GloPoWriMo
The Academy of Poets encourages us to write #shelterinpoems. Get some ideas there and share your own.
Tons of information can be found at Poets.org: National Poetry Month and here: Virtual Programs.
National Council of Teachers of English also offers suggestions here.