Each year Scott McLeod challenges us to challenge our administrators to move forward with technology for the learning processes of our schools. Thursday, August 15, 2013 is #leadershipday13.
How do busy administrators find time to do all the tasks expected with their school board of directors, their staff, their students, and their communities?
Administrators have many stakeholders to consider throughout their day — it's difficult to juggle these expectations. How might technology help?
Our administrator focuses on communication and collaboration with our community and staff. He writes "Thoughts to Share" for school board and staff and sends home a calendars of events.
Paper handouts often wind up tacked to a fridge or cabinet door, piled with other handouts, or stuffed in a briefcase or book bag, or filed in a folder. What if all those communications could be organized and accessible as needed? How could a busy administrator find time to share, communicate, and collaborate? Perhaps technology can help.
1. Public Google Calendar on the school website
What's next? What have we done? When is that meeting? that track meet? Embed the school calendar to a page in your blog and to the website for quick access.
Why? By adding the important school events to a shared, public calendar, all members of the school community have access to school events (sports, meetings, field trips, trainings, conferences, etc.).
2. Start a community blog (public) 
Our community loves to hear what is going on. What would you share? How about blogging once each week, just a paragraph, on four different topics (listed in categories)?  What categories would you choose?
While making rounds in the classroom, writing thoughts to share, or considering upcoming events, make a note of those things and perhaps snap a picture on your iPad.
Once a week, schedule a time to write a brief post in one category:
 Possible Categories
Vision — How are we're doing?
Classes — What learning and engagement do you see in classrooms to show the vision and progress?
Parents — What are students doing? Who can you thank? What happened at events?
Next month— What's coming up? What's the focus? What should we expect? How can families and community help?
By creating categories, readers can view the category needed and review the year in those posts.  Add polls for parents to complete and accept or contact by email for ongoing open communication.
Of course the public calendar would be embedded a blog page.
Why? Open communication, photos and blurbs, and ongoing information contribute to showing and sharing the daily efforts of students and staff towards learning and growing as a community; it brings the outside in and the inside out.
3. Start a Staff Blog (private) or Website
With so many items that must be attended to as we strive for school excellence, what can an administrator do to share and organize information? Administrators, especially principals, have weekly thoughts and ideas to share, meetings to plan and attend, questions to ask, and strategies and documents to share. How can all of these be shared in a timely manner– and be available as a reference when needed?
How about a blog accessible to staff? Ask questions, share documents, link to collaborative, shared Google Docs for input, provide upcoming events, etc. It would be the "goto" place for the most current information and expectations, organized and accessible to staff in one place whenever it is needed.
Perhaps a page could be added for all document links. Provide the information needed ahead of time for staff meetings so everyone is ready and prepared for discussion and action. Embed the calendar on another page.
Again, use categories, tags, or Table of Contents to organize the information: announcements, documents, meetings, items due, queries, readings (for example). What would you use? Would a site or blog work best for you?
Why? A paper trail gets lost in a folder or pile. A "go to" place allows access and organization whenever needed. The trail is clear and available. In the busy times of teaching all day, the ability to find and refer to important organizational needs and focus is paramount to building a professional community where everyone is part and everyone has access so the vision of that community is embraced and lived. Pop open your laptop or or tablet device, and you can review any of the items or add to the conversation on shared documents.
4- What about Collaborative Documents?
Link to documents in the blog or embed them in the website for staff (or community). Provide information or ask for input:
Staff meeting questions or readings before meetings?
School Improvement documents
Google forms to ask for input
Instead of waiting for meetings or emailing staff, use the blog to post questions and link to the shared document with your domain. Staff can subscribe to the blog to receive each update.
Why? Collaborative documents and Google Forms provide a means for communicating and sharing ideas without calling a special meeting or waiting for a staff meeting. It allows everyone to participate and share their voice; it inspires ideas that might otherwise be lost: it helps build the professional community that drives improvement and teamwork.
Which step would you take?
These are four ways busy administrators can connect, communicate, and collaborate with various stakeholders in the school community. The blogs/websites are hubs of outreach and input for an ongoing conversation and report of school events and progress for the community, and are hubs of communication and collaboration with staff for continual progress and sharing of programs and events that can eliminate meetings and provide the place for building a community of practice that includes all staff.
The extent and depth of participation and collaboration will be up to each administrator, but these ideas provide keys to keeping communication current — and curated for review.
Why? Your time is valuable; a place to post relevant information for different stakeholders saves time for you in distribution and organization; it builds community and trust through your input. It builds a history of possibility and progress.
What do you think? Could these four ideas help stamp out the "im" and make possible better, more organized, and curated communication for your school's professional learning community? Which one could you start?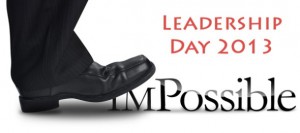 Cross-posted at AskWhatElse