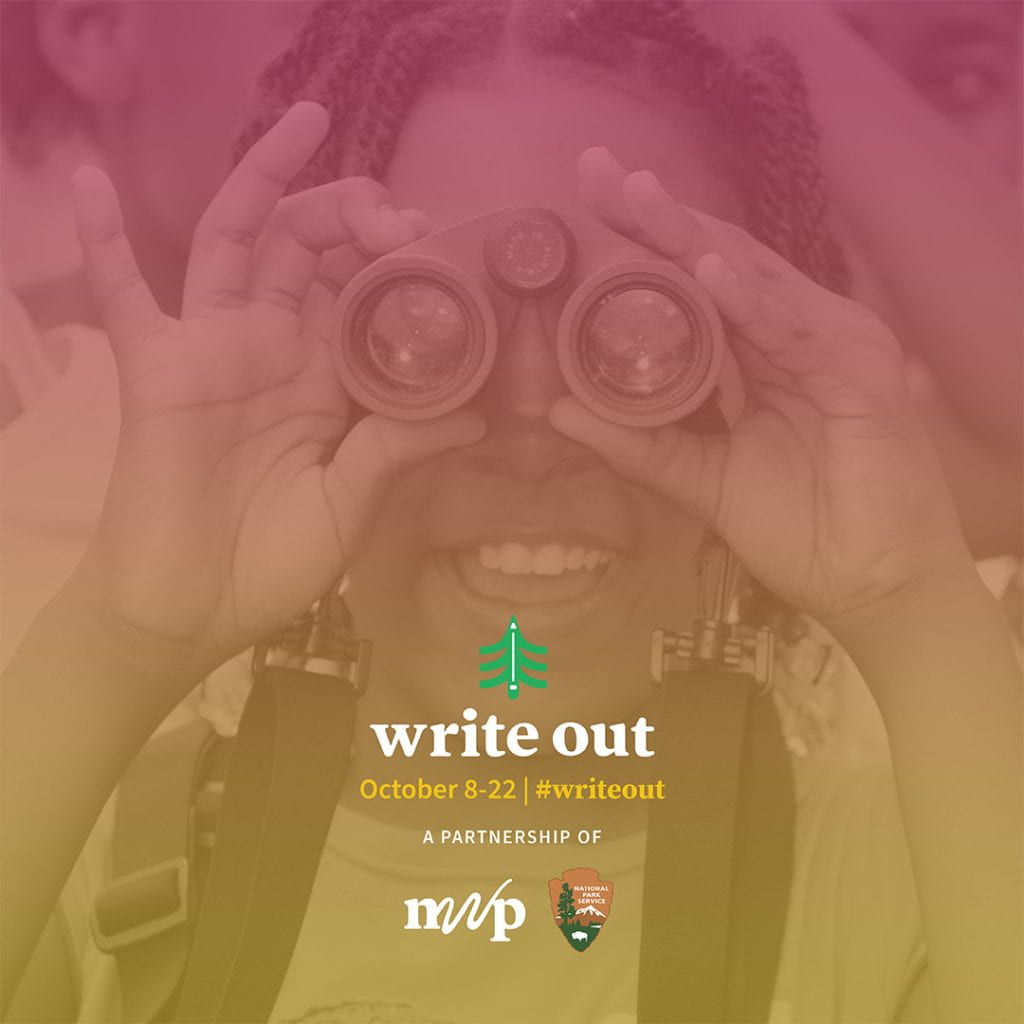 Welcome to the Sixth Year of Write Out !
Write Out (#writeout) is a free two-week celebration—October 8-22, 2023— of writing, making, and sharing inspired by the great outdoors. It is a public invitation to get out and create that is supported with a series of online activities, made especially for educators, students, and families, to explore national parks and other public spaces. The goal is to connect and learn through place-based writing and sharing using the common hashtag #writeout.
This year's Write Out theme is Poetry, Prose, and Parks!
Write Out encourages all participants to get outdoors, write, create, reflect, share, and connect with one another on and offline. Your time commitment and level of participation in Write Out is flexible; you can use any of the content created in your own way, at your own pace, for and with your own community—you are also welcome to create your own!
Write Out is in its sixth year and is sponsored annually by the National Writing Project and the National Park Service.
Sign Up / Newsletter
Sign up now to receive information to support your planning and participation: https://writeout.nwp.org. A current newsletter welcomes you with two videos and lots of information: Newsletter. I watched Ranger Chris's video from the newsletter and learned how to observe nature and write a poem called a haiku. You can also see Ken Nesbitt's How To Write a Haiku. Sounds like fun! So, I went exploring.
My Exploration
My husband and I take a daily walk, usually through the neighborhood's Cole Park. Just outside the park at the credit union, I noticed a tree with an interesting shape and bark. The tree's crown [the leaf and branches part] looked like an umbrella because the trunk was mostly smooth and straight. The bark of a trunk stretches as the tree grows, and this trees stretches looked like little mouths telling stories!
So I took a close up photo of the trunk bark and conducted an image search in Google Image to find out what kind of tree it might be. I found out it was an ornamental tree, one planted for its looks. And it does look gorgeous. It's a Prunus serrula, or Tibetan Cherry Tree. It's also called a birchbark cherry tree.
What's important about the bark of a tree, I wondered. So, I found a little fact sheet and kinds of tree bark info you might want to read to learn about tree bark too. What kinds of tree bark can you find in your neighborhood or park?
My Poem: Birch Bark Cherry
I decided to write about my first impressions– what the tree looked like, and that the trunk's stretch marks looked like little mouths telling stories.
Poetry
Birch Bark Cherry

The crown, umbrella
over coppery red trunk;
stretch marks speaking tales.

Sheri Edwards
09.30.23 273.365.23
Poetry/Photography
Join in!
Sign up now to receive information to support your planning and participation: https://writeout.nwp.org.
---
#writeout #clmooc #poetry23 #birchbarkcherry #haiku
My posts about #writeout over the years: WriteOut