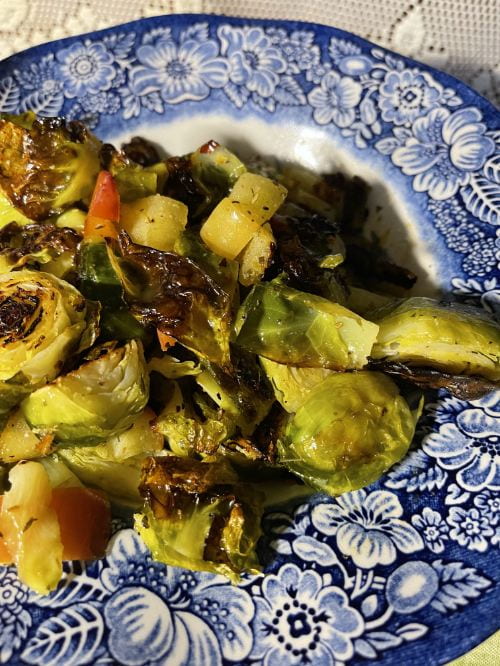 Writing Inspiration
Today's daily create was to share a lunch on Twitter in 140 characters as of old. I decided it also needed a poem because it is a delightful way to serve what can be a bitter vegetable. We love this!
Writing Process
This is a quick and easy recipe and we love it— it makes us smile, so I wanted a lyrical poem that describes it's change from a bitter flavor to one that's delightful. My focus, then, was on the rhythm and flow— the accented and unaccented syllables. Here's my thoughts— and the final revisions made while creating this:
That last line is, of course, poetic license. Roast it, toast it, most it created by reversing the order of the sentence from "It's a lunch with the most!" To "Lunch with the most, it's!" it also changes the rhythm, just as the spices and apples change the bitter sprouts to a tasty delight.
Poetry
Brussels Brunch

Slice the bitter Brussels sprouts
In a bowl with more you tout:
Spice it up— tame or hot—
Adding in with what you've got;
Sweeten it with apple bits
Olive oil to moisten it
Stir it all
Spread on pan
Roast it, toast it
Lunch with the most, it's!

Sheri Edwards
042322 114.365.22
Poetry/Photography
Your Turn
What's your favorite food— or one that enhances the raw when mixed with something else? Think about what makes it special— a certain spice, the texture, the color, the changed flavor? Write a few lines about that, then write a few lines about making it. Now begin the process of organizing and choosing words to lead your reader from the basic beginning to a delicious flavor.
Recipe