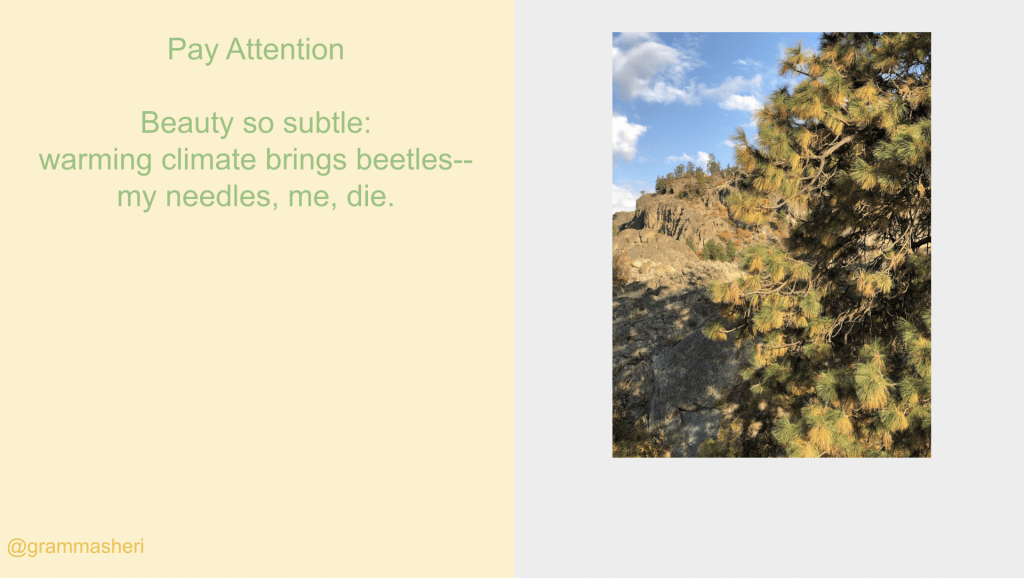 Around Steamboat Rock, up Northrup Canyon where the eagles roost all year, we relish in the beauty of our Ponderosa Pine forest reaching to the sun, covering the basalt cliffs up until  the top where wheat fields spread across the horizon.
We live in such a beautiful world, yet each part of nature is crying out, providing evidence of stress.  See these yellowing needles?
That's the lovely Ponderosa telling us that bark beetles have invested it, and it will soon die. Luckily, the National Park Service still has information on this infestation and some solutions.
Pay Attention

Beauty so subtle:

warming climate brings beetles–

my needles, me, die.
I wonder what other signs of changing climate do you see?
---
Poetry, Photography by Sheri Edwards
---
This photography and poem is part of  #writeout sponsored by the National Writing Project and the National Park Service. The project is for everyone who loves to get outdoors and notice the stories of nature and the connections we humans have with that nature.  Learn more about the project here: NWP Writeout. There's still time– started on 10/13 and is encouraged through 10/26— and please join in creating a Collaborative Haiku Book of Place—add an image and some short poetry by choosing a slide in this presentation and become a published poet with us!