Also on Flickr
---
Make Fun Art
Yesterday I wrote about finding images for blogs. A first choice mentioned was to create your own. I'm not an artist, so I often use photography and quotes with apps on my computer, as explained in that post.
Yes: I am not an artist, so doodling is a fun thing to do. The thing is, as with everything else, the more you practice something, the better you get. With doodling, a doodle a day — or at least time spent during the week, will build muscle memory for lines, shapes, colors, tricks, and using apps. You can see my progress in both digital and paper doodling in my Doodle Flickr Album.
By sharing the process and hashtags with you, I hope you'll be able to say, "If she can do it, so can I" and "She's got a lot to learn yet, but she keeps learning. I can do that too."
Getting Started
I started with just markers and paper — doodling with Twitter friends in the #Sketch50 March, 2017 challenge. We posted online according to the challenge prompts: My Sketch50 – 2 years. I also participated in #doodleaday by Royan Lee.
In August 2017, my #clmooc friends provided doodle prompts, apps, and tips in their annual summer "make cycles." Here's the slide show for "Doodle It"
Then I heard about and participated in what was then offered as a free course [ #21doodledays] from Diane Bleck called 21 Doodle Days. Look for a special; it's offered sometimes. Here's my practice examples that you can follow:  21 Doodle Days.
As you can see, these prompts lead to all kinds of fun skills, from borders to banners to lettering to people. These basic line, shapes, connected shapes provided me with basics I just didn't have before. I learned so much from these practice prompts. Give it a try as a beginning. I created three Doodle Booklets for my family last year based on these prompts and a review booklet this year, which is available here to download or just view on your device [7 MB] [ CC4.0 ]. Notice I credit Diane Bleck with the learning and ideas.
All of these Doodle Challenges I discovered on Twitter. You'll see many sketch-noting challenges these days. I'm not good at Sketch-noting; I just don't  think visually that quickly, but I can create later in a summarizing doodled poster.
What to Doodle
Any of these old challenges are great ways to start. Just start one. Better yet, grab a friend and start the challenge together, tweeting and blogging so others join in too.
A tip from Dave Grey can get you started with this Visual Alphabet 
Or remix these ideas and create a new challenge and hashtag. Here's a quick list of those mentioned:
Also, follow #clmooc because each month we choose someone's monthly doodle to inspire us. This January we chose InkStruck's challenge. You can see my method at the top of the post. I create a calendar grid in Sketchbook and add layers, zooming in to work on each grid cell each day, or at least a time each week. As I finish a drawing for the grid, I then merge it into the calendar. As you can see, I finished up today! I spent the morning doodling away, relaxing and enjoy the flow of lines and color.
And this last summer CLmooc joined with the National Park Service for doodling and writing: Write Out In The Park.  [my #writeout]
As you can see, the possibilities of WHAT to doodle are endless, yet starting with the basics — shapes, lines — is always a great way to start to keep your momentum going.
Doodling opens your mind and heart.
Note: a doodle like this can be created in Sketchbook or Amaziograph.

My art on Flickr
The main thing is to schedule time each week, and even better for each day. Just doodle ! And find a friend — new blogging friend perhaps– to join in! You can do it!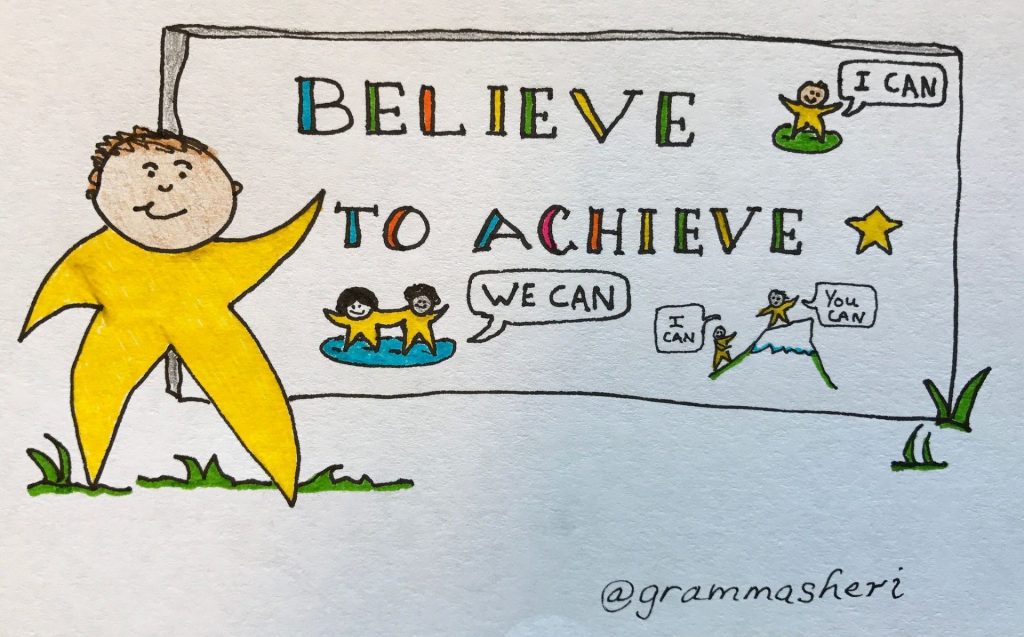 And soon you'll be creating your own doodled Featured Images.
On Flickr
---
This post Day 22 the #blogging28 challenge by Edublogs, thanks to Denise's tweet.