Writing Inspiration
My friend Simon shares his art— many styles and media— and I am amazed at each. When he shared his abstract art from a quarry— I could picture the rocks. I love geology— the record of time in rocks, which he captured:
I love the layers and folds in the rocks of his watercolor. I can see the shadows— the lights and darks of edges and curves. It's a beautiful capture of the moment's story.
As I enjoyed his illustration, I remembered one of our favorite drives for a Sunday— to Dry Falls State Park [Sun Lakes-Dry Falls State Park]. The evening was calm and clear and the photos we took filtered through the sunset captured the moment of all moments— that history of time— in a red aura. And so, the poem.
Writing Process
I thought about the area and decided that a word bank of the concepts in my picture would help. Words of the passage of time to create this scene— for geology, climate, rocks, sunset.
Here's what I considered and choose: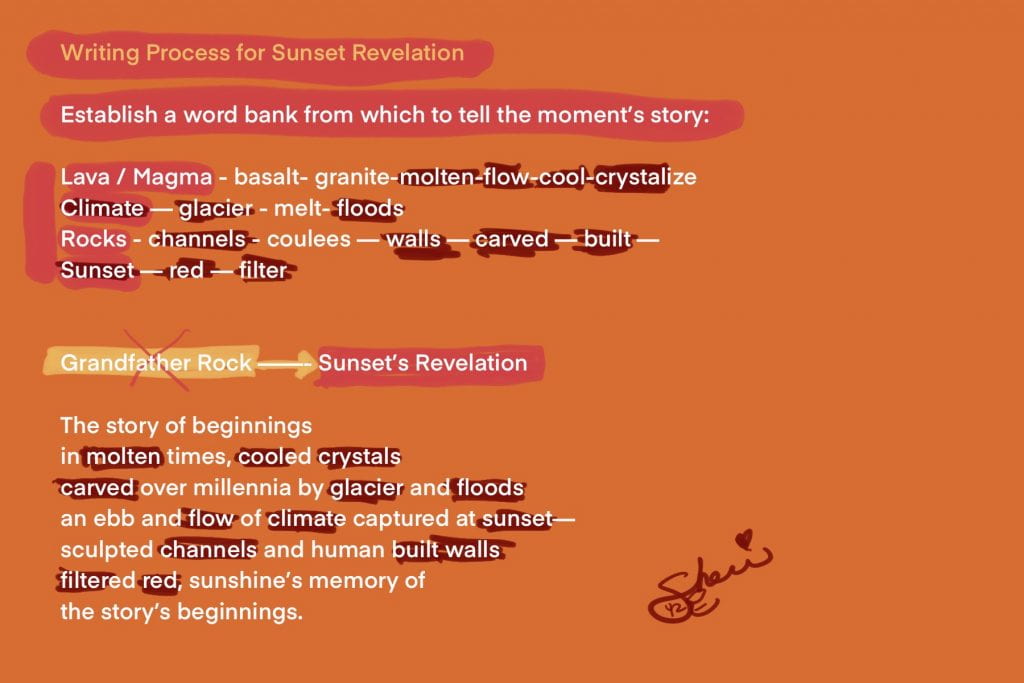 Poetry
Sunset's Revelation

The story of beginnings
in molten times, cooled crystals
carved over millennia by glacier and floods
an ebb and flow of climate captured at sunset—
sculpted channels and human built walls
filtered red, sunshine's memory of
the story's beginnings.

Sheri Edwards
041422 105.365.22
Poetry/Photography
Your Turn
Consider a topic of science or history. Select a particular scene or element. Perhaps do a bit of research and search for a Creative Commons picture if you have none. For instance, see all the Dry Falls images on Wikimedia Commons here. Other sources for useable images:
As you remember your topic and review your notes or research, write down some key words for a word bank.
Write phrases with the words in your word bank to express your ideas about the scene, object, or element.
Organize and revise to form a flow of your words to start from one idea through to your own expression.
Note:
Thank, you Simon Ensor, for your inspiration.