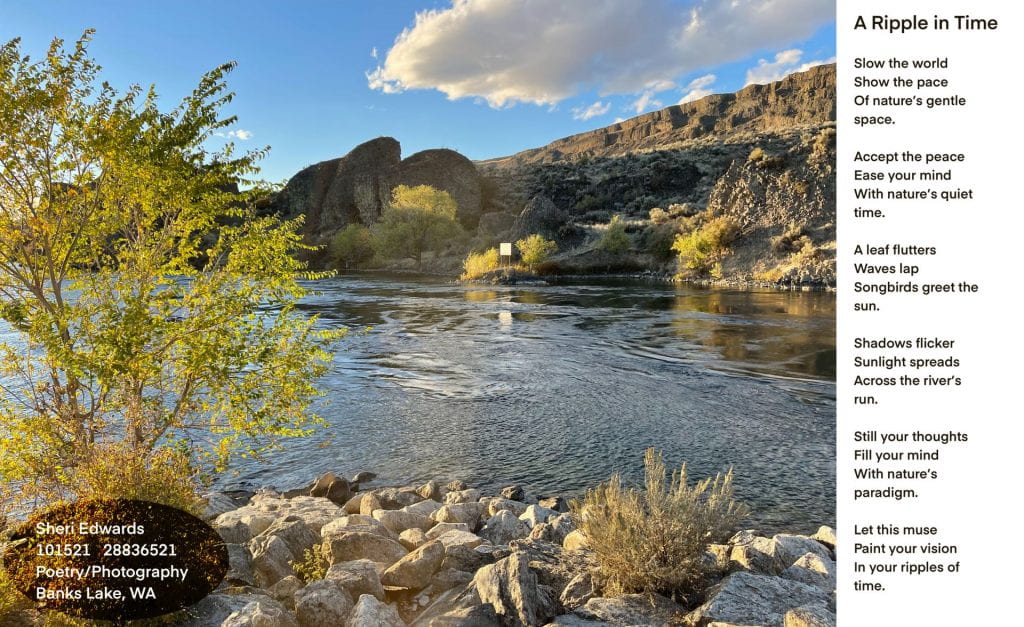 Ripples of our Time
Another prompt for #writeout from the National Writing Project / National Park Service two week celebration of parks and the outdoors came from the Facebook Group. Click the links for many ways and several places and different prompts to explore and write about the outdoors.
This poem derived from this idea in the FaceBook WriteOut group:
One of our favorite places to walk, this spot on Banks Lake near North Dam Park is a favorite area for local dog-walkers and daily walkers. It's a flat area with scenic and peaceful views especially at dawn and sunset, yet the path can take you up the hills for more of a challenge. Whichever route is taken, it's a ripple of time that soothes the soul. Hence, the poem for this frequented walkway.
Banks Lake Ripples:
Walkway Possibilities for the Weekend
So– where might we possible go to spend time out in nature?  Let me show you the ways, and perhaps, if you cannot get out, these will provide a ripple in time for you to enjoy from the comfort of your own home.
Links to our Google Photo Albums:
Your Turn
So– where will you find nature this weekend? And, if you need a nudge, check out the many videos and inspirational activities online at WriteOut. For places and how to share, check out their page here: Share Your WriteOut. And if you toured with me through one of my albums, what did you discover? What did you write? What can you share?
Thank you, WriteOut for another great prompt and opportunity to share our love of nature and our parks.