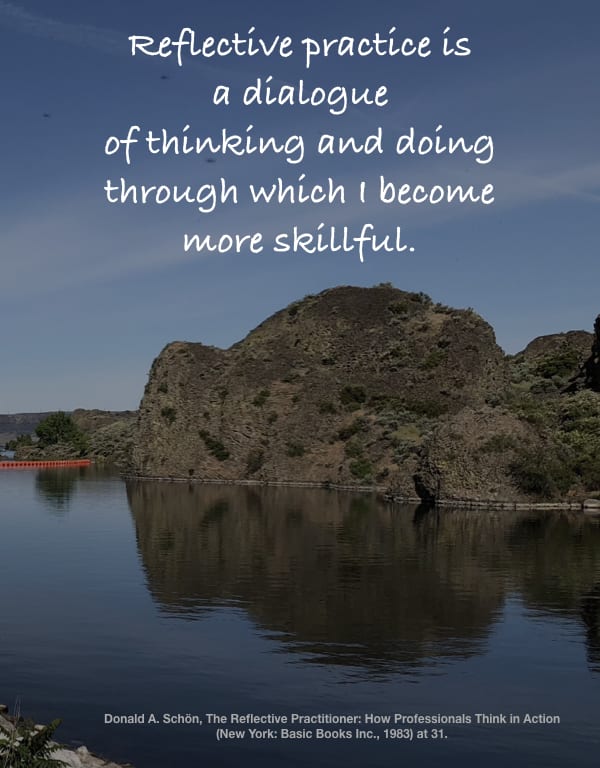 Reflective Practice
Writing a blog post on a topic helps me think it through, to consider my own application, and to wonder about the possibilities. I often pause to consider next steps while reviewing what I'd just pondered and written. Sometimes I start over or revise my ideas while drafting. If I'm writing about an experience, I can evaluate its value and need for improvement. Blogging is a naturally reflective experience that nurtures our own practice.
Blogging not only helps people express what they think, but the process of writing on a blog can also help them crystallize their thoughts. Writing openly and transparently about education helps encourage reflection.

Jason T Bedell
Reflection
While our posts are often reflective in nature, another good strategy for keeping your blogging momentum is to reflect on your week or month of research, posting, commenting, and connecting.
You could reflect on, as I do here:
Review Past Posts
For example, this past week, I've considered the topic of how to build momentum to keep blogging. After I'd written the post on Part 2 Topics, I realized that another need is to curate our ideas, both during and after our search for the information that balances our experiences and ideas. That will become another post for the series.
Review Points Images
Bloggers add clarity and interest with their image choices. If you've included any images, how did the image affect your writing and others' understanding of it? If you created an image, would you make any changes?
For example, this series image:
As I was outlining my ideas, I created the image, but as I began writing, I included a somewhat different path in my flow. Therefore, I may revise the image as I continue working with this idea of building momentum. There is a fine line between blogging to share and blogging to build a community of learners with shared interests. I appreciate my neighborhoods of different interests, and want to include that in my image. As I wrote about Connections, I realized I forgot to include the idea of community and neighborhoods in my image. It fits under the idea of Blog Buddies, but it's more than that.  What else do you think I missed? How would you adapt the image for your ideas on blogging and building momentum?
Appreciation of Connections
In several of my posts, I've mentioned and appreciated the work of others.
When Kathleen asked me about how I built momentum in her tweet, I knew a blog post would best answer that, rather than a tweet. That's when I began to think about all the possibilities of encouraging oneself to continue the blogging habit.
This will be so helpful for bloggers, Sheri! You obviously have a great routine for blogging so regularly too. I've just written a post for The Edublogger with tips on maintaining momentum with blogging. How do you do it? Do you have scheduled time each day?

— Kathleen Morris 🇦🇺 (@kathleen_morris) January 26, 2019
Kathleen commented on that first Part 1 post
I agree that the idea of taking a comment and exploring it in a blog post is such a worthwhile experience.
It reminded me of my past post on blog conversations [2014], because this is an idea my #CLmooc family carries through, and I'd written about that connected learning habit already.
I am thankful for my #CLmooc community for their continued conversations and for Kathleen for asking a question that inspired a serious consideration by all of us: How do we keep the momentum going?
And I'd like to thank Kevin [@dogtrax ] for reminding me in his recent comment to that Blog Conversation post about RSS feeds. It reminded me of another way to curate ideas — and remember, that's one of my next topics. Edublogs, whom I thank and recommend frequently, wrote a great post on RSS feeds. So if you don't know what it is, take a look:
Introduction to RSS and Subscribing to Blogs with Feedly
And I'd like to thank Denise Krebs again for tweeting about #blogging28, knowing we both needed a jumpstart! That's what friends are for!
As you can see, a reflection to appreciate others provides a review of ideas and a way to add information newly discovered or perhaps neglected in the posts being reviewed for reflection.
Revise Goals
Life happens. Revise your goals as needed. Let your readers know. I know I've got to look at Margaret Simon's blog; she offered an open invitation to a DigiLit Sunday blog link, and I see that is no longer on her blog. She's an accomplished blogger and author as well as a teacher, so I'm sure life happened [not to mention a hurricane too!]. I want to know what she's up to now. She wrote a post in 2017 about letting go of DigiLit Sunday so her readers know her reasons. She's a great educator to follow, and I am thankful for all the poetry and writing ideas she has shared.
As I said, revise your goals and let your readers know.
For February, see my Part 1 for my goals. I'll be blogging about them, and I invite you to join in — copy the calendar [a link to the calendar] and make it yours; adapt it for you. I'll be explaining its sequence, which fit with the ideas of
Building Momentum: Topics, Social Ideas, Connections, Reflection.
Invitations to Collaborate
Wherever the invitations arise, reflect on them. Whether you've initiated the invitation or others have, take time to document the learning experience and consider the ways to improve it.
I've been thinking — for about a year! — on how to build my momentum for blogging. I've had all the ideas floating in my head, but it wasn't until Anna Smith's invitation to #modigiwri  and Denise's tweet and invitation to join the invitation to the #blogging28 challenge by Edublogs, that those ideas came together into an aha! The calendar above and the image on Bloggers Build Momentum resulting from that Kathleen tweet was the impetus and inspiration to write out my flow of strategies to keep writing. Thank you again: Anna, Denise, and Edublogs!
Reflection
Yes, many roads are available to reflect on one's blog journey. It provides
a fresh look,
a renewal of ideas,
a chance to recognize the affect others have had on your own journey,
a reconsideration and revision of one's past ideas, and
a focus and goal for moving forward.
How will you reflect on your experience the past 28 days?
Invitation
And as Edublogs ends the challenge, they invite us to continue using the hashtag and inviting others to join in February. I'm honored that in this post on "Momentum" that they included this series. Wow. I'm just a person like you, doing the best I can. So, please: Are you ready? Will you play? I'm game for a continued #blogging28!
---
This is the last day of the #blogging28 challenge by Edublogs, thanks to Denise's tweet. — but not the last post!