DigiLit Sunday is a Sunday post on literacy, an invitation by Margaret Simon, to share literacy strategies and tools for the classroom. This week's list of bloggers: Sunday, November 2, 2014.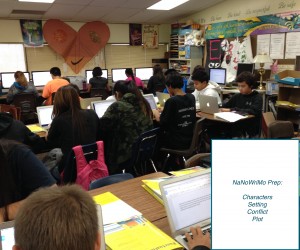 Engaged !
In October, we begin our preparation for our novels, following the helpful curriculum by Young Writers NaNoWriMo: National Novel Writing Month.  Notice: Common Core State Standards focus each lesson. That means, YES, you and your students can write a novel in November.
On Friday, we mapped out the days we can write in school and set our writing goals. Teachers write 30,000 words and students choose their own goals. Students are excited and talking about their novels.  Monday, we begin writing. Most will draft in Google Docs, leaving their "inner editor" in a box somewhere on a shelf so that only the flow of their story taps onto the page, one letter, word, sentence, paragraph at time — ideas driven by a character with problem.  That's all you need to start, but if you need more, the Young Writers Program provides help:
Links to Start
Lesson Plans | NaNoWriMo Young Writers Program
NaNoWriMo YWP: Middle School (6-8) Curriculum – Google Docs
Students | NaNoWriMo Young Writers Program
http://ywp.nanowrimo.org/files/ywp/nano_ywp_10_suggested_rubric.pdf
NaNoWriMo Young Writers Program
NaNoWriMo in the Classroom – Home
Teacher Stories
NaNoWriMo: An #EduAwesome Project for Your #BestYearEver | Edutopia
Wordsmith Agora – Let them Write !
Start
I'd like to thank my friends at #clmooc for inspiring me again — their 5 image story task set my imagination in motion for my novel; here's my start.  It helped my students see how to start — with a character, an image in their mind, and a problem.
Are you ready? Are your students writing?  Check out our Virtual Classroom and watch our progress.