What events and people brought smiles to you this summer?
Think about your summer days: walking around town in blistering heat or pouring rain with friends; splashing through the waves to the dock; catching the biggest trout; screaming through Tremors Roller Coaster; helping Gramma and hearing her stories.
Make a list. Use active words (walking, splashing, catching, etc.).
Share your list with a partner; you may be reminded of more to add while you share. Revise your list for more action words– what else could you change or add to create a mind movie for your reader?
Write the word 'smile' vertically on your paper (your journal would be a great place for this). You can write the letters slightly indented, in case you need to add words before the letter. Look at your list. How can you fit five of those smiling events to include the letters, SMILE? Which would you include? Star them. Now, what else would clarify the event? Add details (5Ws: Who What When Where Why). Remember to change the names to protect the innocent and guilty. 🙂
S
M
I
L
E
Use the letters to write a poem of the events or people that brought you joy this summer.  Here's mine:
Summer swimming and splashing in cool lake waters and stomping in the simmering sand
while walking Pooka and Munching on peanut butter and celery with family for fun at the beach;
watching Interesting movies like Avatar and Star Trek when the rain pounds the pavement outside;
Listening to stories and laughing together with grandkids;
Everyone hugs, happy to gather together again.
Take your time — be an author. What can you remember about writing elaboration strategies? Try these: add details and strong verbs. Include alliteration (examples: stomping in the simmering sand; pounds the pavement). Share with a partner for help.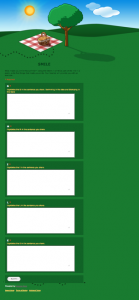 When your poem is ready, go to our Google Form. Enter the S M I L E of your summer joys. When everyone has shared their poem, the survey summary will show everyone's SMILE anonymously. What similarities and differences do you notice? Who can create a class poem?
Think about the writing skills we practiced/reviewed already:
Write about what you know
Prewrite and brainstorm
Peer feedback
Predraft
Revise
Vivid Verbs
Nifty Nouns
Details (5Ws)
Alliteration
Poetry
Think about what we learned about each other. What was similar or different?
What did you learn?  What did you like? What else could be improved next time to make the project better?
Welcome to our always asking, What Else? classroom.