Jo Hart challenged us to find a way to create a Personal Learning Environment (PLE) for our PLN (Personal/Professional Learning Network). I've used iGoogle in the past, but not lately. I've spruced up iGoogle for all the new apps, sites, and connections now in my PLN.
1.  Personalize with Themes
Did you know that each tab (some people call them pages, but Google calls them tabs) can have it's own theme. That's nice to quickly grasp what tab you're in.
Just above your content and below Google search on the right is the place to click Change Theme. There are many whimsical, artistic, and natural themes from which to choose. Have fun searching for those that fit your personality or the content of each tab.
2. Organize with Tabs
Next, I considered the relationships within my PLN:
I translated each branch into a tab or perhaps more than one tab in iGoogle:
Organizing the PLN:
Creating the Tabs:
3. Format the Start (Home) page Preferences and Content
In any browser you can set the preferences for iGoogle to be your homepage. All you need to do is log in:
Just enter: http://google.com/ig into the area for your Home Page Preferences.
Note that in my HOME tab, I have several gadgets. Jo Hart's blog showed how to "Add Gadgets" from the right hand menu.  I included date/time, Google Docs (mine show when signed in), Google Mail (show when signed in), weather, and Picasa Web Albums (when signed in). I also added a simple sticky note for quick reminders to myself.
4. Add PLN feed gadgets.
I have two favorite gadgets.  Feeds in Tabs and Box of Links.
Feeds in Tabs allows me to add RSS feeds. Be sure your iGoogle is on the tab to which you want to add the gadget. Find and add the gadget. Then return to your tab.
Go to the page you to which you want to subscribe. In most browsers and on most blogs or pages are RSS subscribe buttons. In Firefox, I can subscribe from the browser. Click and copy the feed address:
Return to the tab and the gadget. Go to the settings arrow (top right) of the gadget.
Find the URL area and paste the feed you copied. Add the title to the matching numbered title area. I also change the Font size to 0.9em. (Note title area is missing in image.)
Repeat for four feeds. If you need more, just add another Feed Widget. Note that you can often subscribe to posts and comments ! Then I can track student blog comments as well right from iGoogle.
5. Add website links.
Repeat this process for links instead of RSS feeds. Any website you frequent can be placed in thed Box of Links.  Remember to start in iGoogle with the tab open to where you want to place the link box. If you forget, just grab hold of the link box in iGoogle and drag it to the tab on which you want it to show.  It's that easy.
Do you have more than one gmail account?  I had already created all these links under a different gmail account, but don't worry.  Go to that account and go to settings of each gadget you have already formatted — choose "share this gadget."
Enter the email address and be sure to check the box to keep the formatting — "Send my settings for this gadget."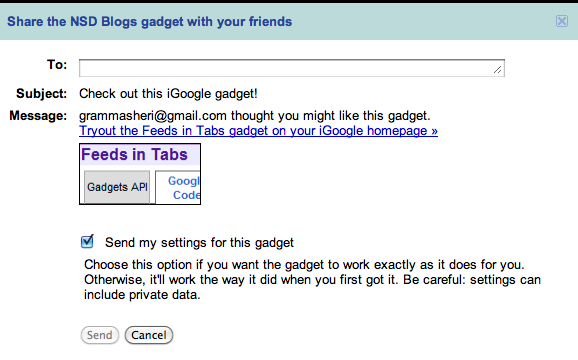 I was easily able to add my gadgets to this account. Whew!
6. Continue organizing for your needs:
Here I am adding my Edublog Challenge Blogs to read:
So, to spruce-up your iGoogle to keep track of your PLN:
1. Add personality to each tab with different themes for easy ID as you flip through them.
2. Make iGoogle your homepage in each of your browsers.
3. Organize tabs according to your PLN needs, and remember your family and kids too.
4. Add RSS feeds for the blogs you need to read (PLN, Student, Your own). RSS comments as well.
5. Add Site feeds for quick links to your most frequently used sites (class pages, your blogs, family sites, Nings, etc.).
6. Keep your iGoogle current.
I hope this helps someone get started organizing their learning environment.  What else did you do?
Good Luck
Photos:
Screenshots from iGoogle
Charts created in Mind Node