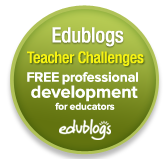 What type of PLN do I have?
My PLN are a) educators who apply technology with their students in ways that jumpstart kids into their futures and b) educators learning to do this.
How do I learn from and share with my PLN?
How do I add new tools?
I read and respond to tweets and blogs and research from tweets and blogs so I can also move in that direction. I also attend challenges and webinars to learn and use new tools and resources. I use Diigo to capture, highlight, and annotate important tools and strategies that I could adapt in my classroom.
I've mentioned my favorite learning places and webinars here:
and how I organize this here:
How Do I Organize my learning?
I've decided to also participate in Mondays, 7:00 PM Eastern, #engchat on Twitter.
Four more sources I can share:
a) PBS LearningMedia.org (standards-related resources–new)
b) Edutopia.org (blogs, resources)
c) ASCD Edge Community
When do I learn and share PLN activities?
CR20 Webinars: Except July, every Saturday at 9:00 AM Pacific
How do I keep going?
Once a day during the week, I check in for 10-20 minutes, learning and sharing– bookmarking, retweeting, blogging, commenting. One or two days a week, I spend an hour learning new tools — and trying them with my students during the school year.
My kids are grown, so my husband and I enjoy our computer research and work together.
It still can be overwhelming, and so it is important to remember, "One does what what can." So set a goal to try one new tool or strategy each semester. If you do more — great, but at least you'll have one good area to share about on your blog each semester so someone else can learn from your experience. That's what the goal I will set this year, and ask my peers to join me.
Thank you
For me, I thank all those from whom I have learned: thanks for sharing — you educators (many I have thanked in my posts) have inspired me — so I keep trying. My PLN became an extension of my family — relatives far away connected through technology. I look forward to each connection.
Are you feeling that way too?