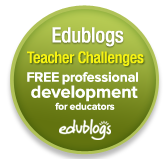 Learning with the new Build Your PLN Edublogs Teacher Challenge creates many resources I may forget. Sarah Wooden commented how it's not easy to keep track of every thing. Sue Waters shares how to keep track of fellow bloggers and comments through an RSS Reader. But what about all the tools and strategies we learn about– the tool link, the how-tos, and the examples? How do we remember where to find those?
My own strategy is to use Diigo, a social bookmarking and highlighting tool that allows me to create lists and groups to which I add bookmarks to those websites I want to remember. I have a list that is just for Tools — Animoto, Wallwish, etc. I also may put how-to pages there, or in my How-To List. I have lists for lessons, certain topics, specific tools (like Google Apps).
Now that I've got you thinking, Diigo has a free and premium version — and teachers should apply for the education version. My language arts students use Diigo for research, note-taking, and writing feedback and research sharing. Each class has their own private group, and we have one group for all our classes.
And I belong to several groups, including Classroom 20, Diigo in Education , and EdTechTalk. I've created a group for the Teacher Challenges, called "ebchallenge" if you decide to join Diigo. That way, our new PLN we are building can share resources with each other.
Remember, it's easy as your ABCs.
Add a highlight to a webpage.
Bookmark to Diigo (into a group and/or list).
Comment in the webpage using the Sticky Note feature and in the description box about what you learned when you click bookmark.
Save.
From any connected computer, you can access your bookmarks and highlights with annotations (comments). You now have organized and saved all your precious research, tools, and learning !
Interested? Please join our PLN ebchallenge group: ebchallenge
Here's the Diigo Vimeo overview:
Diigo V5: Collect and Highlight, Then Remember! from diigobuzz on Vimeo.
Diigo V5: Collect and Highlight, Then Remember! from diigobuzz on Vimeo.